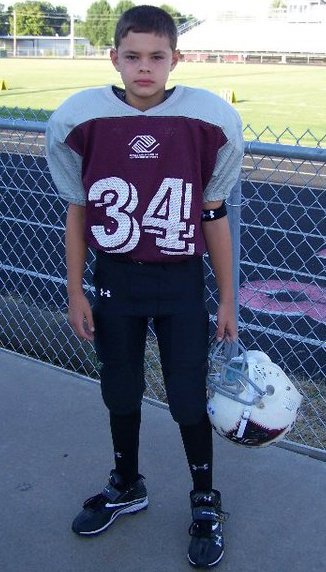 NWAMotherlode readers are always great to let us know about fundraisers and events to help others in the region. Here are a few worthy causes you can help with in the next two weeks:
Baron Meek Fundraiser, Oct. 2:
Whitney Taylor recently told us about an amazing 9-year-old boy from Siloam Springs who needs our help.
There will be a fundraiser to help Baron Meek (pictured at right) and his family with medical expenses on Saturday, Oct. 2, from 10 a.m. to 5 p.m.
The fundraiser will be at the James Butts Baseball Complex in Siloam Springs. There will be a kickball tournament, a Home Run Derby, a Bounce House for the kids, pizza and hot dogs, a bake sale, a raffle for lots of items including an ipod touch, and much more!
Baron had been hospitalized for a few weeks. He kept having strokes, but doctors couldn't figure out the cause. He was first sent to the Siloam Springs Hospital, then to the Tulsa Hospital, Whitney said.
About a week ago, Baron was flown to Arkansas Children's Hospital and doctors now believe he may have sickle cell disease. He was able to come home for now.
If you can't make it to the event on Oct. 2, donations are also being accepted at Signature Bank, c/o the Baron Meek Recovery Account.
Thanks in advance for helping this NWA family! Click HERE to follow Baron's story on his Facebook page.
Garage/Bake Sale to assist adopting family, Oct. 9:
Fayetteville residents Aly and Kirk Kirkpatrick have adopted a daughter, Janie, from the Democratic Republic of Congo. Kirk will be leaving Fayetteville and flying there on Oct. 10 to pick her up. His trip will be much longer than the family originally anticipated. Instead of 7-10 days it looks like Kirk might be gone for 6 weeks.
"As you can imagine, we are delighted that our daughter is finally coming home but anticipate that the time spent apart will be stressful on our family in many ways," Aly said.
For example, the family hadn't planned on an additional 4-½ weeks of hotels, meals and other miscellaneous expenses. To help defray these unexpected expenses there will be a Garage Sale & Bake Sale Fundraiser on Saturday, October 9, at 3577 East Madison Drive in Fayetteville. The sale will be from 7 a.m. to 2 p.m., everything half price after noon.
They need both garage sale items and baked goods to have a successful sale. If you're interested in helping donate items for the garage/bake sale, contact the Kirkpatricks directly at kirkpatrickar@hotmail.com or by calling 479-251-8446.
The Titus Task 5K, Oct. 16: 
We'd also like to tell you about The Titus Task's annual 5K in Siloam Springs.
The Titus Task is a non-profit, 501c3 organization with 100% of the donations given to The Titus Task being used to pursue a future for orphans.
On Saturday, October 16th, The Titus Task will be holding its 2nd Annual 5k race and 1mile family fun run, as well 4×400 family relay event that has been added to the race activities this year.
RACE DETAILS:
The Titus Task 5K/1Mile Fun Run and 4×4 Family Relay
Saturday October 16
Registration 7:30-8:15AM (Pre-registration preferred)
5K starts at 8:30, other events to follow
Downtown Siloam Springs
Historic Fountain at East Main and Broadway
Details and Registration form at www.thetitustask.com