There are a handful of movies we stop channel surfing for every time we catch a glimpse of them on TV. Pretty Woman is at the top of that list. How many times have we seen it? We've lost track. According to our husbands, it's a lot.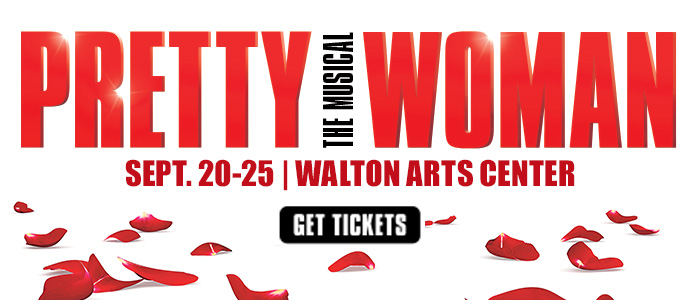 So we're more incredibly happy to be giving away tickets to see Pretty Woman: The Musical on stage at Walton Arts Center on September 20, 2022. One winner will get FOUR tickets to the show, which means you can make it a double date night with friends or take your older kids with you, if you like. (The show is recommended for people ages 13 and up.)
ABOUT THE SHOW:
PRETTY WOMAN: THE MUSICAL, based on one of Hollywood's most beloved romantic stories of all time, springs to life with a powerhouse creative team led by two-time Tony Award®- winning director and choreographer Jerry Mitchell (Hairspray, Kinky Boots, Legally Blonde).
Brought to the stage by lead producer Paula Wagner, PRETTY WOMAN: THE MUSICAL features an original score by Grammy® winner Bryan Adams and Jim Vallance ("Summer of '69," "Heaven"), and a book by the movie's legendary director Garry Marshall and screenwriter J. F. Lawton. PRETTY WOMAN: THE MUSICAL will lift your spirits and light up your heart. "If you love the movie, you'll love the musical!" (BuzzFeed News).
HOW TO ENTER:
If you'd love to win these 4 tickets to see Pretty Woman: The Musical at the Walton Arts Center on September 20, 2022,  scroll down to the bottom of the post and past the comments posted by other local moms.
Then write a quick comment telling us one of your favorite lines (or moments) from the movie Pretty Woman. (Here's a quick list of some of our favorite lines, which we have had memorized for more than 20 years!) 
"Welcome to Hollywood! What's your dream?"
"You have that sharp, useless look about you."
"That's just geography."
"Oh, God… The pressure of a name. I got it. Cinda-(effin)-rella!"
"Hey, I've got money to spend in here."
"People put you down enough, you start to believe it."
"I want the fairy tale."
"Big mistake. Big. Huge. I've got to go shopping now!"
STAY CONNECTED:
Our newsletter subscribers get access to good stuff, including exclusive giveaways (like this one), information about local events, local mom interviews, recipes and more.
The nwaMotherlode newsletter is delivered straight to your inbox so you don't miss anything awesome (like this chance to win tickets!) CLICK HERE to sign up. We won't fill your inbox with info, no worries. We only send out newsletters when there's something in it for you — and we know you'll be interested in hearing about it.
MORE INFO: 
Get tickets to Pretty Woman: The Musical by clicking here, calling 479.443.5600 or by visiting Walton Arts Center box offices.