Are your kids climbing the wall lately? Here's an idea. Take them to see a show where the star really does climb the walls — literally. LEO hits the Walton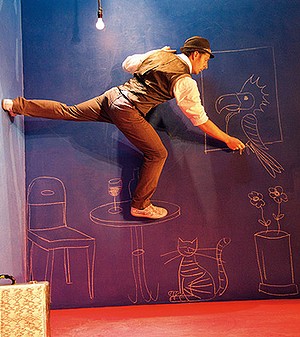 Arts Center stage this Friday, February 21st at 8 p.m.
(We'll notify the winner of the four tickets on Thursday morning so you'll have a day to make plans. Please keep an eye on your inbox for an email from us!)
This week we're giving away FOUR tickets to what is perhaps the most unique stage show you'll ever see. LEO is a one-man show that makes you forget the laws of gravity and enter a new world. The show blends physical theater, acrobatics, animation as well as a fun interplay of live performance and video projection.
You and the kids will be wondering how in the world LEO did what he did, even hours after the show has ended. This award-winning production has been amazing audiences in New York, Berlin, Montreal and in cities all over the world.
In its review, the New York Times said, "The audience gets gravity-defying spectacle and the wizard behind the curtain at the same time."
Since this is one of those "have to see it to believe it" type of shows, here's a short video clip from LEO.
HOW TO ENTER: To throw your name in the hat for the FOUR tickets to see LEO, click the words "post a comment" below and tell us about some of the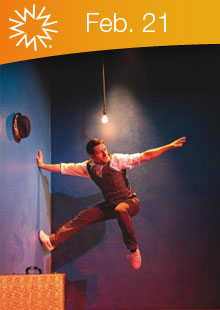 ways your kids like to "climb the walls."
Do they get rowdy by running laps around your kitchen? Do they make the bed into a trampoline? (For example, one time when my daughter was 3 years old, I walked into the room to find her hanging by her fingertips off the top of a window casing. She had climbed a wing-back chair to get there and was awfully proud of her daring feat. Nearly scared the life out of me.)
You can also email your answer to giveaways@nwaMotherlode.com.
INCREASE YOUR ODDS OF WINNING: If you'd like to increase your odds of winning these tickets, just share! Email friends and family about the giveaway and CC us so we'll be sure to give you credit. You'll get an extra chance to win for every person you send an email to. The email address to put on the CC line is giveaways@nwaMotherlode.com.
BE SOCIAL: You can also earn extra chances to win by commenting on our Facebook page, following us on Twitter or following us on Pinterest. If you do any of those, just mention it in your comment or email so we can give you proper credit.
TICKET INFO: Click HERE or call the Walton Arts Center Box Office at 479-443-5600 for more info on tickets to the show. This is going to be a FUN show for the whole family, so don't miss this one!
Good luck in the giveaway!