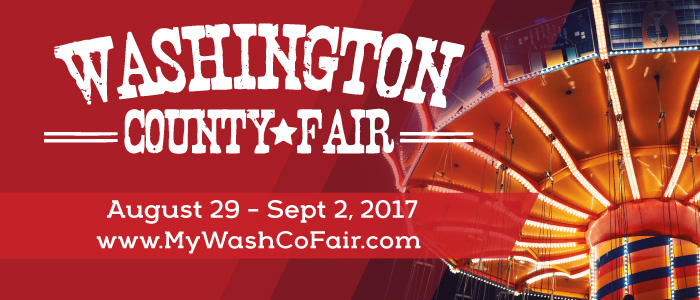 Giveaway closed. Congratulations to Kimberly Wilson, who won the tickets!
The Washington County Fair is a strong tradition in our family.
For nearly 15 years, we've visited the animals, walked through the exhibition halls, eaten ourselves sick on fair food and whirled and twirled on the rides.
The Fayetteville fair is largest county fair in the state and was  founded in 1857.
This year, the Washington County Fair will run Aug. 29-Sept. 2. If you'd like to take your kids this year and have some tickets already in your pocket, we've got you covered. We've got $250 worth of ride tickets to give away! One mama is going to have some VERY happy kiddos!
Here's a quick rundown of a few special events at this year's fair:
On opening night of the fair (Tuesday, Aug. 29th) it's Family Night. It's $2 at the gate and rides are all $2. There's a free petting zoo from 5 p.m. to close. The "beautiful bunny" contest will be at 5:30 p.m. in the rabbit barn.
On Wednesday, school and church students are free from 10 a.m. to 3 p.m.
Thursday is Senior Citizens Day and all seniors 62 and older get in free from 10 a.m. to 5 p.m. It's also the University of Arkansas Day. UA students get in free from 5 p.m. to close and can buy $15 armbands.
On Friday, the 4-wheeler rodeo will be from 7-9 p.m. in the rodeo arena. At 8 p.m. the Washington County Sheriff's Office K-9 demonstration will be in the livestock arena.
On Saturday, there's a youth dog show in the livestock arena at 9 a.m. Carnival rides start at noon on the last day. Buckin' at the Fair is at 7 p.m.
Armband Nights are Friday and Saturday, $20 with a Pepsi product can from 10 p.m.- 1:30 a.m on Friday, 10 p.m. to midnight on Saturday.
Each day the fair opens at 10 a.m. to visit the animals, see all the exhibits and snag some snacks. The fair's carnival midway opens at 5 p.m. each day, except for noon on Saturday.
There's a free petting zoo from 5 p.m. to closing every day of the fair (starts at noon on Saturday).
The pig races will be BACK this year, every night! 🙂
$5 at the gate (ages 6 and older) or $25 armbands
HOW TO ENTER: If you'd love to win the $250 worth of fair ride tickets, click on the word "comments" (right under the headline of this post) and scroll down to the bottom of the comments posted by other moms. Then post a comment telling us your FAVORITE thing about the Washington County Fair! If you've never had an opportunity to visit the county fair in Fayetteville, tell us what you're most looking forward to doing, seeing or eating!
Click here to see the full schedule of events at the fair!
You can also email your answer to us at giveaways@nwaMotherlode.com.
INCREASE YOUR ODDS OF WINNING: Help us spread the word about this giveaway by emailing your friends and family about the giveaway. We'll give you an extra chance to win for every person you tell. Just be sure to put giveaways@nwaMotherlode.com on the CC line of your note so we can give you proper credit.
You can also earn an extra chance to win by signing up to receive the free email newsletter we send once a week.
Our newsletter subscribers get access to the good stuff, including exclusive giveaways (like this one), information about local events, local mom interviews, recipes and more.
It's delivered straight to your inbox so you don't miss anything awesome. CLICK HERE to sign up. We won't fill your inbox with info, no worries. We only send out newsletters when there's something in it for you — and we know you'll be interested in hearing about it.
BE SOCIAL: You can also earn extra chances to win by commenting on our Facebook page, following us on Twitter or following us on Pinterest. If you do any of those, just mention it in your comment or email so we can give you proper credit.
CLICK HERE to visit the Washington County Fair website to find out more! CLICK HERE to like them on Facebook and see the latest news! We'll choose a winner on Friday, so check your email in case the winner is YOU. Good luck, mamas!