GIVEAWAY NOW CLOSED: We have a winner, mamas! And the lucky guy is the husband of Beda Adams, who threw her name in the hat to win this awesome Father's Day gift for her hubby. Congrats on winning the $100 gift card at Fast Lane Entertainment. Have a great time!
If June 20th is not on your radar yet, it's about to be. There are officially 12 days until Father's Day. Do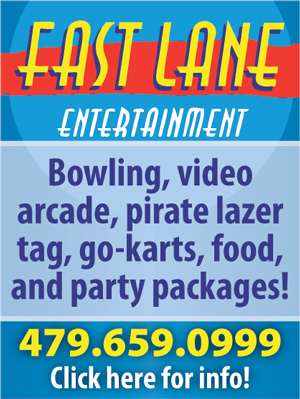 you have a gift yet? Anything special planned? If you're still in the "I don't have a clue yet" category, we've got good news. Thanks to some help from one of our newest website sponsors — Fast Lane Entertainment — we've got a Father's Day Giveaway that he would LOVE.
If you're married to the kind of guy who's a big kid at heart, this is the perfect gift for him. It's a ONE HUNDRED DOLLAR GIFT CARD TO USE AT FAST LANE ENTERTAINMENT! That's a whole lotta video games, bowling, lazer tag, pizza, and go-kart racing.
The best part of this particular giveaway is that it's totally flexible. You use the card in whatever way you like at your convenience. It could be a day of fun with the whole family, a party package for a guys' night out, or you could save it for a few special date nights for just you and him. (Did you know that Fast Lane has an area that's just for adults? It's got glow-in-the-dark bowling, huge TV screens for music videos and sleek sofas to hang out on with your sweetie while you snack and bowl.)
In our experience, inside every serious father there is a little boy who would really like

permission to come out and play. Why not help the guy out? You'll score some major "cool wife points." If you win the gift card, you could wrap it up with a bowling necktie like the one we have here, just to fake him out. 🙂
HOW TO ENTER: Click the big orange comment button below and tell us what you love and appreciate about your kids' dad, step-dad or your own dad. Or you can enter via e-mail by answering this question and sending your response to us at giveaways@nwaMotherlode.com.
INCREASE YOUR ODDS: Remember, we always choose a winner using a RANDOM number generator, so don't feel like you have to write the best answer to win. You don't. It's all a numbers game. Speaking of numbers, you can increase your odds of winning by telling your friends and family via e-mail about this giveaway. Send them a note and be sure to put giveaways@nwaMotherlode.com on the CC line of your e-mail so we can give you proper credit. You'll get an extra chance to win for each person you tell.
We're looking forward to hearing about the special men in your lives. Our thanks to Fast Lane Entertainment not only for their support of this local moms' website but also for the very cool giveaway. Good luck in the drawing to all our fellow mamas!