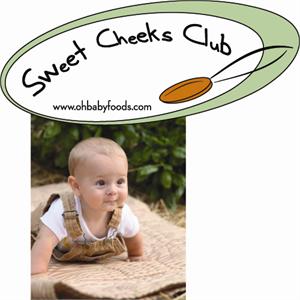 Congratulations, Wendy Karcher! Wendy won the month-long Sweet Cheeks Club membership from Oh Baby Foods.
It's the perfect fit, since Wendy is mom to a new baby boy.
Here's what Wendy said in comments:
"A 10, of course. I made all my own food for my first son (Oh Baby wasn't available then, lol) and made sure I introduced him to all sorts of foods. Now I have a preschooler who isn't a picky eater and who prefers fruits and veggies to sweets. I plan on following the same path for my 5 month old son. I'd LOVE to add Oh Baby foods to his diet!"
Sweet Cheeks Club is a brand new service that Oh Baby is offering in addition to its frozen purees. Parents sign up for a week or a month, pre-order from a menu that changes weekly (according to what's in season), and then pick up a week's worth of individually-sealed, all-natural refrigerated purees at the Oh Baby kitchen.
There's no contract, it's for all ages and stages, is 75% locally-raised and is refrigerated (instead of frozen). Click here to go to online store!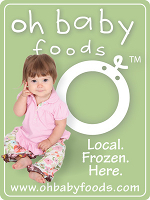 About Oh Baby Foods: Fellow mom Fran Free Gunsaulis started Oh Baby Foods after it became her passion to give her baby, Lucy, the very best food available (that's little Lucy in the ad on the right!). Then she decided that other moms might also appreciate access to frozen purees for babies and toddlers made from ingredients raised by regional farming families. You can pick up Oh Baby Foods at its kitchen in Fayetteville, online or at quite a few local grocery stores. Click here to see where you can find Oh Baby Foods in Northwest Arkansas grocery stores.
Click here to see an interview with Fran on nwaMotherlode.
We hope your little guy loves his Sweet Cheeks membership, Wendy!