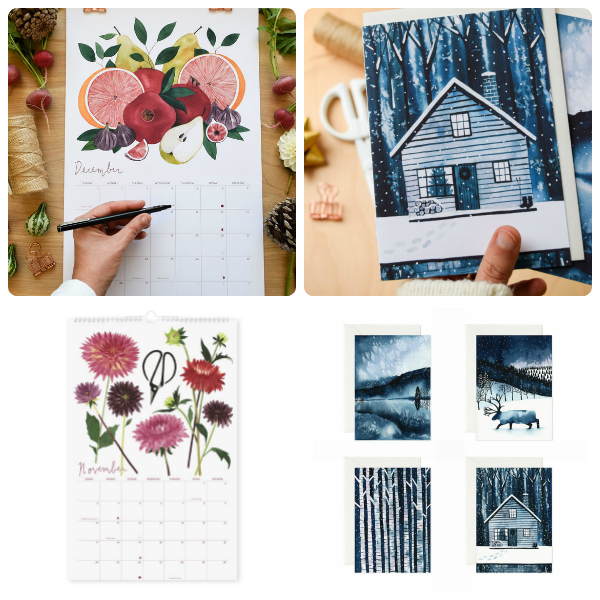 May We Fly
Left: 2019 Farmer's Market Wall Calendar
This gorgeous wall calendar features watercolor illustrations by local artist Leana Fischer, whose work has been featured in items from Hallmark and Papyrus. For this calendar, Leana has created a collection of 12 illustrations that celebrate her love of Saturday morning walks around the Farmer's Market in Northwest Arkansas. Bursting with flowers, fruits and veggies, this calendar will look beautiful in any friend's kitchen (and yours, too)! It measures 11×17 and is printed on smooth, heavy cardstock. You can choose between two binding styles — either spiral bound or binder clip plus twine. Calendar also includes all U.S. holidays and moon phases. It comes with a page of "Market Day" stickers, so you'll never forget when it's time to shop your favorite Farmer's Market. Cost is $28 or 2 calendars for $50.
Right: Snowy Night Assorted Card Set
Even in an increasingly digital world, there's something so special about finding a real card in the mailbox. We suggest either gifting the entire set to a card-loving friend or getting them for yourself to use as holiday cards this year. (They're sized so that you can fit a 4 x 6 photo inside the card.) With 12 cards total, there are three cards of each of the 4 beautiful designs, each printed on heavy cardstock. The cards come with white cotton envelopes and are packaged in a clear, sturdy box. Cost is $30 for the set.
Where to shop: Shop anytime of day or night by visiting the May We Fly online store.
See more: See the artist's latest designs (as well as free downloads and video tutorials) by bookmarking the May We Fly website. You'll also find her on Facebook, Instagram, and Pinterest.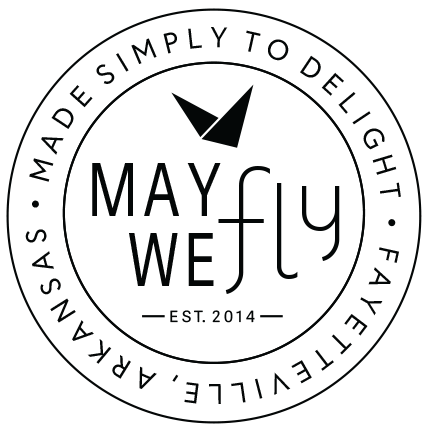 ---
Left:Silver Bells Tower package
This set of sweets includes some of Rick's most popular treats that are perfect for giving to a friend, neighbors or to a holiday party. Inside you'll find 8 tea cookies, 4 thumbprint cookies, 3 assorted brownies, 6 sprinkle/stripe cookies, 9 assorted petit-fours (chocolate, strawberry, white and peppermint). Cost is $35.
Right:Rick's Razorback Ring
Rick's Razorback Ring is a delicious danish filled with cream cheese and strawberry filing. It's topped with Rick's melt-in-your mouth cream cheese icing and sugar sprinkles — with a Hog cookie right in the middle. Perfect for that Hog fan in your life. Cost is $20.
Where to shop: See all the beautiful cakes, cupcakes and pastries (and smell all those incredible smells) at Rick's Bakery located at 1220 N. College Avenue in Fayetteville. For questions about the items mentioned here, call the bakery at 479-442-2166. See the menu on the Rick's Bakery website by clicking here.
(Did you know that Rick's Bakery has a new location that is OPEN NOW in Rogers? It's in the former Dixie Cafe building near Lowes. It's huge and it's awesome! They have soup and sandwiches for lunch, too! It's a perfect place to stop for lunch or a treat while you're out shopping.)
See more: See Rick's Bakery's latest creations by following them on Facebook, Instagram, Twitter, and Pinterest.