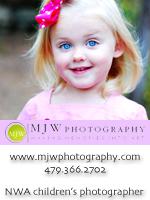 We bet you've noticed the blue-eyed beauty in this ad (at right) for MJW Photography in our Work-From-Home Women space on the Motherlode home page. The photographer behind MJW — and who shot that great picture — is Melinda Worthington. Melinda is a new sponsor on the site and we wanted to let you get to know her a little better with a short question-answer session. Here's a snapshot of Mindy's life as a photographer:
Q: You say on your website that clients often ask in the middle of a shoot (when the kids don't seem to be cooperating) "Are we getting anything?" How do you respond to that question?
A: I try to let parents know when they book their session that I don't expect kids to stay put and always look at me.  I tell them to think of it as a play date and not stress out about it, that's my job.  When I have a toddler session I have a bad habit of forgetting that the parents are even there because I'm too caught up in playing with their child and following to get the shots.  When I'm asked how it's going during a session I always let them know that it going great and to not worry.  If I see the panic in their eyes I'll oftentimes show them a few shots from the camera to ease their worries.  It always makes me smile when I can see the relief in their eyes. After that, they totally relax.
Q: What is your background in photography?
A: Like most photographers I'm mostly self taught, but I continue to educate myself in different ways.  I read everything on photography and attend workshops with some of the top photographers in my field.  I also network with other local photographers, and that is so important in my opinion.
Q: How would you describe your "style" of photography?
A: That's a good question.  I guess I would call myself a modern children's photographer.  I don't consider myself a lifestyle photographer because I do like to think out most of my sessions, but I'm  not a traditional photographer either.  If I had to give a list of what I like it would include color, very sharp pictures, and face-focused.
Q: How has that style changed over the years?
Like most photographers who start out, I didn't know what my style was, so I tried a little of everything.  I went to a conference about 1 ½ years ago and they talked about finding your style.  When I got home I started looking through my work, picking out what shots I really loved and what was just alright.  I studied what it was about those shots I loved and discovered my style.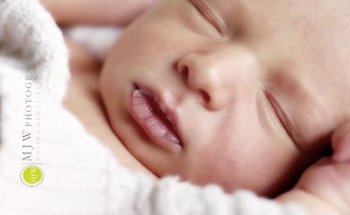 Q: You say newborn sessions need to be booked within the first two weeks of birth. Why is that important and what other advice can you offer for those first, precious shots?
A: The newborn stage truly doesn't last very long.  Once they understand that they can stretch their little legs and arms it becomes much harder to capture them all curled up.  During those first 2 weeks it is much less of a challenge to get them to stay asleep so that we can curl their little bodies. 
When you are getting ready for a newborn shoot keep in mind that they can last anywhere from 2-4 hours.  I am very patient, allowing plenty of time for feedings and time to get your newborn to sleep.  One thing that is very helpful to is have a space heater blowing on your baby throughout the session since the majority of the time he/she will be naked. Swaddler blankets and knit hats are some things that can really personalize your session.  I am not a big fan of clothing on newborns since they tend to overwhelm little ones and hide all those newborn features.
Q: Why did you decide to specialize in children's portraits?
A: Wow.  I guess it just seemed the natural course for me.  I've done all types of photography from weddings to newborns to senior sessions, but I really just wanted to specialize.  For me the idea of trying to be the photographer for everyone was just too overwhelming.  Child photography is where my heart is.  There is just something about viewing children through my lens that fascinates me.  I guess it's seeing them grow up and watching them when they look back that gets me.  I have photographed a lot of children, yet every one of them is a new experience for me.  Sometimes I'll get to a session and the child is so energetic and friendly that the time just seems to fly by.  There are also those sessions when I have a toddler looking at me with weary eyes.  These are the times I have to remember that my long lens is probably intimidating to them, but when I get down on his/her level and put the camera away it all changes.  I believe the key to being successful at photographing children is truly getting to know their personality in that first 5 minutes … or they will lose interest in me!  
Q: Are your three children accustomed to having a camera in their face or do you find that you forget to take pictures of your own kiddos?
*laughing* My kids are very used to the camera…but that doesn't mean they like it!  My problem isn't remembering to take their pictures as much as keeping my sanity while I do it.  Photographers often tend to dread photographing their children.  I guess it's because our children get annoyed with it and feel it appropriate to let us know.  
My oldest son lets me photograph him easily, but I have to be quick about it because he gets annoyed.  My daughter is another story, she would model for me all day long!  Levi, our almost 2 year old is the exact opposite … I'm still trying to get that perfect shot of him.  
Q: We LOVE the "Mommy Cards" that you recently started offering (link).  These mommy business cards – complete with pictures of the kids and contact information – are innovative. Do you have any other new products we moms would like to know about?
Sure, but first I must give credit where it is due.  The mommy cards were inspired by a very good client of mine.
I also make play-date cards that are the same size as a business card.  They have your child's first name and picture on the front.  On the back is a place to put information to exchange with another parent to get your kids together.
I love to reward my returning clients, so often times I put something extra in their package as a thank you, but it's not usually the same thing just to keep it interesting.