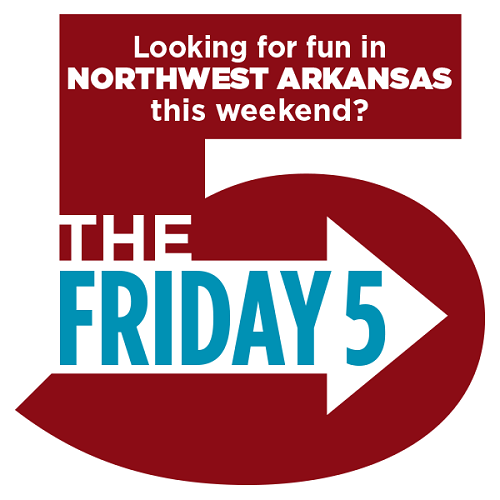 Mamas, the calendar is PACKED with mostly Halloween-ish events this weekend in Northwest Arkansas!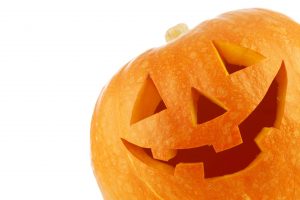 Here are (more than) 5 fun things to do with your kids in NWA over the weekend (click here to see more Halloween events happening through Oct. 31st!):
The Ozarktober Fest Fall Fling in Downtown Springdale is a 4-day event with live music, food, pumpkin decorating, FREE activities, and $5 hayrides that will take you from the rodeo grounds to the hub of Downtown Springdale near Shiloh Square and back.  There are several fun activities going on in Downtown Springdale on this evening, and the hayride will allow you to shuttle among them from 6 p.m. to 9 p.m.
Date: Friday, Oct. 26
Time: 6-9 p.m.
Location: Downtown Springdale, Parsons Stadium Springdale
Treats at the Train Family Carnival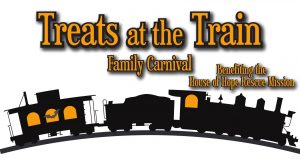 Come Trick-or-Treat on the Train, enjoy carnival games, pony rides, hay ride, food trucks, live music, and more. Proceeds benefit the House of Hope Rescue Mission, helping feed the hungry and help the homeless of Northwest Arkansas. *The train will be stationary; this is not a train ride. Fun for all ages. Admission is $5 (Kids 2yrs and under are free). Get tickets ahead of time and go straight to the will call line, or stop by the Springdale Depot to pick up your armbands in advance. Armbands can also be purchased in advance at New Hope Fellowship Church. Price of admission covers all activities.
Date: Friday, Oct. 26
Time: 6:30-9:30 p.m.
Location: House of Hope, Springdale
Farmer's Market trick-or-treating, Bentonville Square
Enjoy the last Farmers Market  of the season with festive activities and trick or treating around the Bentonville Farmers Market. Dress up in costume, bring your kids, dogs, and friends.
Date: Saturday, Oct. 27
Time: 7:30 a.m. to 1 p.m.
Location: Bentonville Farmer's Market
Date: Saturday, Oct. 27
Time: 10:30 a.m.
Location: Fayetteville Public Library
Eat Well, Play Well & Magnificent Me — New exhibits at the Amazeum
Explore healthy choices and learn about the systems of the human body in two new interactive exhibits at the Scott Family Amazeum opening to the public on Saturday, October 27, from noon to 5 p.m.
What is in the food we eat? Are fruits and vegetables important? Can everyday activities burn calories? Guests will find the answers to these questions by exploring nutrition and fitness in Eat Well, Play Well, an engaging and educational science exhibit. This hands-on exhibit appeals to children and their families and features text in English and Spanish.
The experiences in Magnificent Me complement those in Eat Well, Play Well through an interactive look at the systems of the human body. All the healthy food and exercise is only effective if the body's systems are working properly to turn food into energy. Take an interactive tour of the respiratory, digestive, skeletal, and muscular systems of the human body and find out how body systems function and how lifestyle choices support proper functioning of essential body systems in Magnificent Me.
A special members-only preview of these exhibits runs from 9:00 am to noon on Saturday, October 27. Members should reserve a time at www.amazeum.org/events/members.
Date: Saturday, Oct. 27
Time: Noon to 5 p.m. for the public; 9 a.m. to noon for members
Location: Amazeum museum, Bentonville
There will be a costume contest with creepy snacks and crafts. Fun for the whole family.
Date: Saturday, Oct. 27
Time: 2 p.m.
Location: Springdale Public Library
Candy giveaways from downtown businesses, touch-a-truck, carnival games, a pumpkin drop, a pumpkin carving contest, and a costume parade (dogs too!).
Date: Saturday, Oct. 27
Time: 4-7 p.m.
Location: Downtown Springdale.
Family Spooky Skate at the Jones Center
Stop by the Jones Center for a spooktacular afternoon of ice skating, costumes, and candy on Saturday, Oct. 27 from 2-4 pm. Costume contest, Candy, Skate with Northwest Arkansas hockey players. $7 per person (includes skate rental)
Date: Saturday, Oct. 27
Time: 2-4 p.m.
Location: Jones Center for Families, Springdale
Pumpkin patch with 1000 pumpkins (free for Community Center members), pumpkin decorating, costume contests, inflatables, and a Touch-A- Truck Truck or Treat with our very own Bentonville police and fire departments. Stick around for a free outdoor movie at 7 p.m.

Date: Saturday, Oct. 27
Time: 5-9 p.m.
Location: Bentonville Community Center
Trick Art Treat at Crystal Bridges
Have a ghoulishly good time during Trick-Art-Treat in the forest. Enjoy pumpkin painting (Crystal Bridges provides the pumpkins), candy, and a special photo-BOO-th! Free, no registration required.
Date: Sunday, Oct. 28
Time: 4-6:30 p.m.
Location: Crystal Bridges, Bentonville