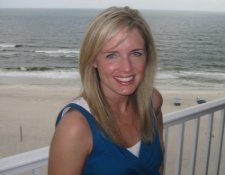 Name: Tammy Varner
Daughter's name: Ally, age 3
Hometown: Live in Cave Springs, work in Fayetteville, husband's office is in Rogers… I'd say my hometown is all of Northwest Arkansas!
Where were you raised? Russellville, Ark.
What are your most prized possessions? My iphone and my laptop. Very unsentimental but I can accomplish just about anything with them!
If you could live anywhere in the world, where would it be? Maui, Hawaii.
Favorite vacation spot? Maui, Hawaii
Was the picture (above) taken in Maui? Actually, that pic was taken earlier this summer in Gulf Shores 🙂
If you went back to college what would you study? Journalism
What's your work background and current occupation? I am an Account Executive at Mitchell Communications Group. Before making the move to public relations, I worked for 10 years in broadcast news as a producer and assignment editor.
If you had a whole weekend to yourself what would you do? Catch up on all my favorite tv shows and go shopping.
Favorite parenting moments? Too many to count…. 5 minutes ago my daughter got out of the bathtub and started doing a "shake your booty" dance. Priceless.
What traditions do you hope to pass on to your daughter? Big holiday meals surrounded by all the people that you love. And, I plan on teaching her how to make my Nannie's chicken-and-dressing!
A make-up essential you couldn't live without? That is a tough one. Probably mascara.
What's the best thing about having a little girl? I get to do little girl things, like have tea parties, play dress-up, and giggle!
What are your favorite hobbies? I'm a foodie. I love food, cookbooks, cooking supplies, Food Network, etc.  I also love to bargain shop.
What was the best parenting advice you received? Don't sweat the small stuff.
OK, what was the worst? "You shouldn't rock your child to sleep." I rocked Ally every night until she was 2. I loved that time with her and wouldn't take it back for the world!
One word to sum me up … Dedicated