Hey mamas, Crystal Bridges Museum of American Art has some great classes coming up starting next month and running through December.
As the museum notes, "Making art increases creativity, provides a sense of accomplishment, calms the spirit, boosts the "plasticity" in the brain, and increases the ability to focus. Especially for children. Besides that, it's fun!  It's creative, interesting, challenging, entertaining, sometimes messy, but always productive FUN."
Truth. Kids of all ages love to make art (we'll include ourselves in the mix, too)!
Crystal Bridges offers artmaking programs both at the museum and in the Bentonville Community Center, for kids from age 13 all the way down to three-month-old babies.
These programs are led by artist-educators and include looking at and learning about art in Crystal Bridges' collection as well as getting hands-on with new materials and techniques so kids can make art on their own.
All supplies are provided and costs vary, but are reasonable for single-day and three- to four-day programs. (Some are free!) Museum members receive a 20% discount on all classes at the Museum. Click here to join.
Here's more about art classes offered for each age group (and be sure to read to the end for some events coming up SOON plus a little "inside scoop" you'll want to know about!):
Art for Babies and Toddlers
Even the youngest babies love color, shapes, and pictures, and are natural art lovers. For babies ages three months to two years, Crystal Bridges offers CB Babies, a creative play class for infants and their caregivers, at the museum. The museum also partners with the Bentonville Community Center to offer My Grown-up and Me, a four-session artmaking class for children ages 2 to 5 and an adult that takes place at the Community Center.
Learn more about baby and toddler programs here.
Preschoolers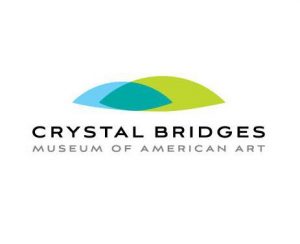 Preschoolers learn about shapes and colors, as well as textures and materials, in these three-session classes for 4- to 5-year-olds at the museum.
Museum-based sessions include looking at artwork in the permanent galleries, or exploring the temporary exhibition Stuart Davis: In Full Swing, followed by artmaking in the studio, with a focus on drawing, mixed media, or texture. Check out this recent blog post about activities in one of Crystal Bridges' preschool classes.
At the Bentonville Community Center, the museum is offering three four-session preschool classes that give little ones a chance to mix up some art "ingredients," such as art and music, shapes and lines, or mixed-media collage to create personal masterpieces.
Learn more about preschool programs here.
Elementary- Age Kids: at School and at Home
Crystal Bridges offers after-school art programs for school kids at the Bentonville Community Center, and special artmaking classes just for homeschool kids at both the museum and the center.
Four-week after-school classes focus on playful portraits, or on artworks in the temporary exhibition Stuart Davis: In Full Swing. Homeschool Friday Fun programs are three-day offerings focusing on kinetic art or the art of Stuart Davis. There are also longer homeschool programs that introduce students to artists in Crystal Bridges' permanent collection over six weekly sessions.
Learn more about elementary-age classes here.
T(w)eens
Studio Squad is a program developed especially for "tweens," kids ages 11 to 13. The October and November classes will focus on design and printmaking, respectively. These are FREE one-and-a-half-hour programs at the museum.  All you have to do is register and show up!
Learn more here.
Don't miss Crystal Bridges' second annual Tween Night on September 30!  Organized by the museum's High school Teen Council, this free evening features dancing, artmaking and unique gallery experiences especially for kids 11 to 13!
Also you should definitely go to the FREE event on Saturday, Oct. 8, at the museum. At Family Sunday: Art for All, you and the kids will discover new ways to make art with special guests from Zot Artz. Add to a giant mural, draw with mega-chalk, blow bubbles, and meet folks from area organizations that champion access and inclusion across Northwest Arkansas. No registration required.
While we're on the topic of inclusion and access, did you know that Crystal Bridges has an Access + Inclusion department that produces programs for specific audiences, like youth with autism and families with special needs? That.is.awesome.
Click here to find out more about these inclusive programs.
Inside Scoop! Crystal Bridges will have free hot glass blowing demos now through Oct 18 in Chihuly: In the Forest, free to view with a Chihuly exhibition ticket (free for members, and all youth 18 and under) so it's just $10 per adult! We ♥ it!
If you have any questions, call the museum at 479-657-2311, or click here to check out the full range of events at Crystal Bridges.

Save
Save
Save
Save