By Carrie Perrien Smith
Sometimes someone enters your life and weaves himself into it. That's the way Jim was. He married my long-time friend, Kelly, eight years ago. He was a kind, cheerful, easy-going, helpful guy. That's what she needed to help raise her three young men.
We attended their parties, and they attended ours.
And they weren't those socialite kind of parties. They were the kind where we laughed long and loud, where there was always room for one more. Jim put tons of thought into the party menus. Not even my mom can remember my long list of food allergies, but Jim did.
He always proudly announced what they were serving that I wasn't allergic to. I reminded him it wasn't necessary, but it always made me feel special.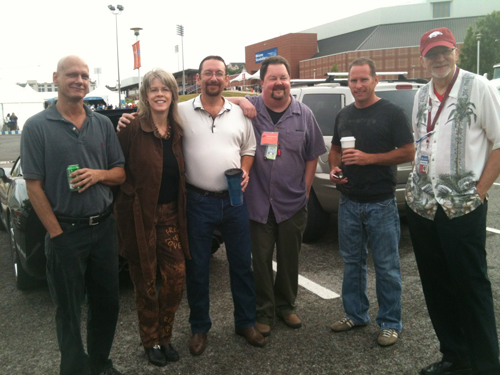 When we went out for an evening of live music, Jim couldn't wait to dance. When he wore out his wife, he'd dance with me or the bar owner's wife or any other female he could coax onto the dance floor.
He was my copier tech too. I work from home so a service call to my office included greeting my dogs, Midgieboy and Jazmin. Midgieboy loves almost everyone. Jazmin loves almost no one — except Jim. She loved him, and he loved her because she loved him. He always stopped what he was doing to vigorously rub Jazmin's ears and neck like she was the only dog in the world.
My husband, Tom, deejays and supplies audio/visual services for business meetings. Jim was a technical wizard so Tom hired Jim when he needed assistance. Even when Tom volunteered his time and services for a charity event, Jim offered to help too. He gave generously of his time to help others.
Jim considered himself a handy type of guy. He assembled my wood filing cabinet in my office. I remember how hard he tried to fix our oddball-brand toilet in our fixer-upper. It still had problems, and I eventually called a plumber. I didn't tell him though. And I'm sure his wife Kelly will never forget the time he was decided to fix the heater core in his truck himself because it would just take him a few hours. It took a few days instead. He would try to fix anything whether or not he had any related experience. It sometimes made sense not to mention something was broken.
Jim had been in a living-room/family-party band for years. Most of the band members had been copier technicians. One day, he asked my husband to come jam with them. Tom had begun to play guitar again after decades away from it. It was a better than practicing on the couch with his unplugged electric guitar. When the occasional family gathering called for a band, I can't remember my husband smiling more heartily than when he was playing with them.
The guys wanted to play beyond the living room so they started practicing more often. And when we bought our fixer-upper, it offered enough space for the band to practice. Jim was always the first to arrive to help Tom set up the garage for practice and didn't leave until everything was stowed again.

And that's how I ended up in a band called Paper Jam.
When they lost their backup singer, I offered to help out. I didn't have any experience, but I was willing to learn. I wasn't all that good back then, but he taught me what he knew. He was the first to encourage me. The band evolved, and we launched our "playing outside the garage" tour of local smoky night spots. We had a few personnel changes, but Jim was a constant influence as a founding member.
Things changed for Jim in 2012. He got downsized at work, and it opened the door for him to launch his own technical service business. Being a longtime business consultant/coach myself, I cheered him on. I also played devil's advocate just to make sure he had the "running the business" part down right. He did really well.
While he was pouring his heart and soul into his growing business, some long-time health issues were starting to slow him down. He juggled the demands of his business, family, and the band before that. But now, he commented frequently that he didn't have the time to commit to the band. There were a lot of times where it was obvious he didn't feel well enough for two-hour practices, let alone the physically demanding four-hour shows we played. Those included three extra hours of schlepping heavy audio equipment.
It was difficult when we suggested he take some time off from the band to focus on more pressing priorities. He agreed, and we left his place open if things settled down enough for him to come back. That was late 2012. By then, I was singing lead more so we split up Jim's songs between our bass player and me.
We invited Jim and Kelly to our shows after that. They came a few times and stayed for an hour or less. We were always glad to see them. Jim looked much weaker and thinner each time. There were even a couple of narrow brushes with death.
Just two years younger than me, it reminded me that our days on earth are sometimes fewer than we expect.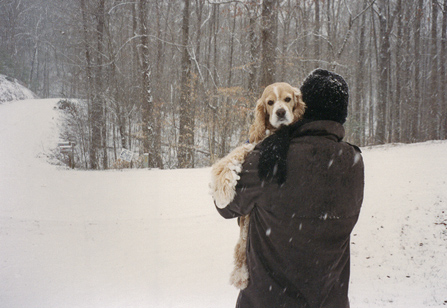 The week before Christmas, Kelly called us. Jim had just learned he was in full liver failure. They arranged hospice care. Kelly was busy tackling those end-of-life details — signatures, final wishes, etc. She needed to handle a few more details but would call when we could see him.
By that Monday evening, he was well-medicated to ensure his comfort. He snored through most of the visit. We chatted with Kelly as we sat on the edge of Jim's bed in their dimly lit bedroom. We listened as she updated us on all that must be handled when someone chooses to die at home. It was a nice visit. I kept thinking how much I wished we'd been able to visit two or three days earlier.
When it was time to leave, we got up off the bed. Jim snapped awake. Still groggy, he reached out his hands and said, "Let me shake your hand." Tom and I each grabbed one. His jaundiced skin felt cool and taut. We held on and uttered things that wouldn't sound like a final goodbye although we knew it was. And as quickly as he sat up, he resumed his rhythmic snoring.
Remember that scene in the 1997-version of Titanic where Kate Winslet is floating in the ocean on a piece of wood from the sunken vessel? When she awoke to realize that Leonardo DiCaprio had died, she releases his grip on her arm and she watches him sink into the dark ocean. That is what it felt like when I turned loose of Jim's hand that evening.
So many times when I stood next to Jim on stage and looked out at the crowd, I thought, "I want to remember this moment forever." I felt the same way about those fleeting moments when I held Jim's hand that night.
Jim died thirty hours later in the early hours of Christmas. Over the coming days, Tom and I sifted through video, audio recordings, and photos for his memorial service. As I wandered through my daily routine, I realized I had a million memories of Jim.
Some will be silly, like when my copier is hopelessly jammed due to stupid human error or I'm referring to my dogs as the corporate security like he did. Others will hit me when I'm singing one of his favorite songs with our band.
He is missed, but he will always be with me. I hope people will remember me so often and fondly when I am gone.
Carrie Perrien Smith is mama to Darcie and a pack of black dogs (Jazmin, Midgieboy, and Chloe — in pack order), grandma to Robert, wife to world-traveler and Walmart-blue-bleeding Tom, daughter to Wayne and Phyllis, speaker bureau and publishing company owner, Business: Engaged! small business radio show host, community activist, singer in a party band called Paper Jam, and home improvement junkie. Follow her on Twitter @soarwitheagles or contact her at carrie@soarhigher.com.