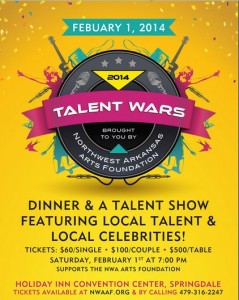 Talent Wars
Dinner and a talent show featuring local talent and local celebrities. You'll get a great take-home bag.
Feb. 1
Time: 7 p.m.
Location: Holiday Inn Convention Center, Springdale
More info: Click here
Star Trek Film Festival/Geek the Library, Rogers Public Library
RPL is hosting a free family-friendly Star Trek film festival beginning February 1st and running each evening through February 6th. Popcorn and drinks are free. Then on February 8th we will host our Geek The Library event. Geek is free and runs from 10 a.m. until 4:30 p.m. Face-painting, crafts and a live Minecraft tournament with prizes for the kids. Then for the older kids through adults, RPL feature Bridgesim a Star Trek Bridge simulator for battling Klingons.
Date: Feb. 1-8
Time: Varies
Location: Rogers Public Library
More info: Click here
Crystal Bridges Museum
I Love Lucy Live on Stage, Walton Arts Center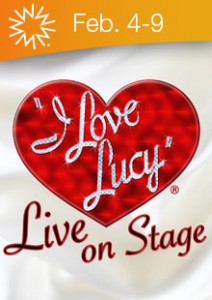 Date: Feb. 4-9
Time: Varies
Location: Walton Arts Center
More info: Click here
9th Annual CHILIRHEA Charity Chili Cookoff
All proceeds benefit Alzheimer's Arkansas Programs and Services and Alzheimer's Association. Live music, Big Dawg Hot Dog Stand, silent auction. $30 adutls (eats and drinks all day) and kids under 13 are free.
Date: Feb. 8
Time: Noon to 6 p.m.
Location: Fayetteville Town Center
Crystal Bridges Museum of American Art, Family Sunday

Get in the Valentine's Day spirit at a Family Sunday celebrating the love of art. Enjoy music, art projects, and fun in the galleries and have a lovely time with your family!  Sponsored by Rockline Industries. All activities are free.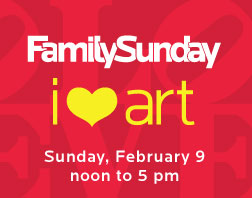 Date: Feb. 9
Time: Noon to 5 p.m.
Location: Crystal Bridges
Crystal Bridges Family Workshop | Family Love Box
Come together on a Friday night to create art with your family! Celebrate your family's love of art and togetherness through collaging a family Love box.  Personalize your box with your own small family treasures by bringing them to the workshop. $20 per family ($16 for Members).
Date: Friday, February 14
Time: 6:30 to 8 pm
Location: Crystal Bridges
More info: Register online or at Guest Services.
Team Red Grocery Store Tour, American Diabetes Association
This free tour event will kick off the Northwest Arkansas Team Red program. Aisle by aisle, certified diabetes educators and dieticians will discuss portion and serving sizes, how to read nutrition labels and healthier options in Roger's Walmart Supercenter. Limited space is available. RSVP now to secure a spot in this fun interactive activity.
Date: Thursday, February 20
Time: 6:30pm-7:30pm
Location: Walmart Supercenter, Rogers
More info: If you are interested and have yet to sign up for the FREE Team Red program, please contact Olivia at owelch@diabetes.org or 479-464-4121. Team Red welcomes anyone and everyone to participate. Together we can Stop Diabetes! Or click here to visit the website.
Community Creative Center Winter Art Programs (adult and youth)
Community Creative Center (formerly Northwest Arkansas Community Creative Center) is a visual arts organization located in Walton Arts Center's Nadine Baum Studios. Community Creative Center (CCC) provides a full spectrum of visual arts classes to children and adults along with specialized workshops, summer, after school and intersession arts camps, and gallery and studio space for local artists. Classes include: Beginner's Pottery Wheel Class, Figure Drawing, Intermediate Wheel Class, Water Colors, Photoshop, Drawing with Colored Pencils, Handbuilding Pottery Class, Fairy Tale Embroidery Class, Intro to Linocut, Mosaics, Acrylics, and more! For more information and a complete list of classes, visit the website.
Date: Dates vary depending on class; classes run through March 10th. Classes are weekly
Time: Varies
Location: Community Creative Center, 505 W. Spring St., Fayetteville
More info: Click here