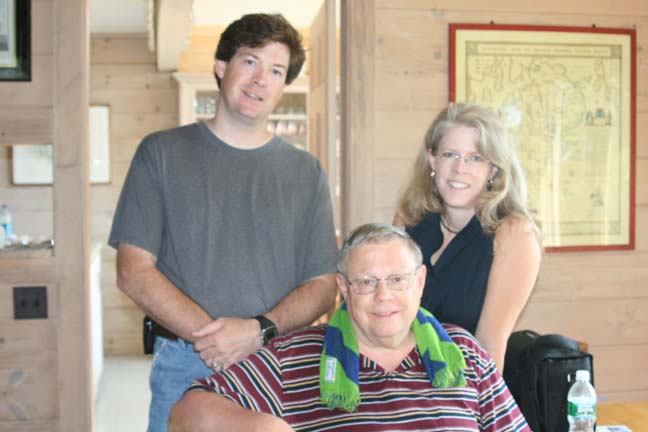 By Carrie Perrien Smith
I got the call from Mom at 4:10 on the afternoon of Saturday, February 21. It was punctuated with "I don't know what I will do without your father."
At age 72, Dad was gone.
I put three changes of clothes, my toiletries, and a few essentials into my duffel bag and headed to Sapulpa, OK, where I grew up. The two-hour drive felt like an eternity. But it gave me time to think through all the details I would need to help Mom with over the coming days and weeks.
When I pulled into the driveway of the home I grew up in — just like I'd done thousands of times — suddenly I found myself in unfamiliar territory. My parents raised us to be teachable and independent so we were prepared for a world that would make us street-smart and strong.
A friend told me that we are never really an adult until our father passes away. As I stood on the threshold of my 50th birthday, this was a rite of passage.
But Dad had one more lesson for me. Over the next few days, I learned his three steps for how to plan your funeral.
Step 1: Drop some breadcrumbs.
Dad didn't leave us many specifics. I had asked several times during our kitchen table conversations about his final wishes. He'd give me a vague answer and change the subject. He told Mom there was a document on his computer that provided some information. My brother and I reviewed it but it provided few details.
He had considered cremation and burial but left it up to us to choose. He did ask that if we cremated him, that we don't just set them in an urn on a shelf. He wanted his ashes scattered.
He requested a non-religious funeral. When my parents married and left their families' Nazarene church for an Old Testament faith, it sparked a firestorm of controversy that divided the family for decades. A non-religious memorial gathering would provide neutral ground.
When we looked for a location to host Dad's memorial, I remembered the new conference center in town. He showed it to me in December. Turns out he showed it to Mom and my brother too.
We realized Dad had again dropped some breadcrumbs. We rented a meeting room there that overlooked the fountain.
It was perfect for a gathering of 25 people. It also gave a view of the snow that fell throughout his memorial.
The second step to planning your funeral? Don't take yourself too seriously.
Dad had a quirky sense of humor. Frankly, I didn't always get it. But I laughed because he laughed. He left us with a lot of material. We were a technology family so we had lots of fun photos for the memorial PowerPoint.
There were usually smartphones on our dinner table in later years. I pressed record on mine to record what turned out to be Dad's last Thanksgiving blessing on the food. We played that at the memorial too.
Dad was in a writer's club at the library. They had several writing activities but he enjoyed writing haikus the most. You know those three-line Japanese poems? He wrote hundreds of them, most laced with his quirky humor and often scribed on small scraps of paper.
We read some of his haikus at the memorial:
The world's full of pests,
So please neuter your pets, and
Weird relatives, too.
Cop's toilet stolen.
They're working hard on it, but
They have nothing to go on.
And sometimes he was just the voice of reason:
If you leave the house
After dark, aren't you really,
Leaving after light?
Last summer, Dad performed his rendition of the 1950s hit Splish Splash at the library's talent review. I videotaped it and put it on YouTube.
It too was injected with a funny moment where he joked about forgetting the words. It made people laugh, but I don' think he really forgot them. It made people giggle at the memorial too. Watch it here:
Dad was a musician. I remembered him singing a song called Joy to the World by the 1970s rock band, Three Dog Night. I downloaded the karaoke version and passed out lyric sheets at the memorial and we had a sing-along to close it out. It was epic — Joy to the world, all the boys and girls now. Joy to the fishes in the deep blue sea, joy to you and me. (Click here to see the Three Dog Night version)
Dad didn't take himself too seriously. He would have loved that he made us laugh.
The last step in planning your funeral is to live your passion.
Dad was passionate about the people of Israel. He was a noted author and speaker on Old Testament history. He never earned a college degree but he learned Hebrew, Latin, and German so that he could translate ancient texts and turn them into research tools for the next generation.
I will probably remember most Dad's passion for music. He had a dance band when I was very young. They wore gold lamé jackets and played big band music — songs like Take the A Train, Sentimental Journey, and Pardon me, boy. Is that the Chattanooga choo choo? They practiced at our house on Monday nights. My closed bedroom door bumped to the beat against the door jam long after my bedtime.
Later, our family moved to a two-story home. Dad's music room was on the second floor over my bedroom. His dance band days were over but he still wandered upstairs after the demands of the day were behind him and played music late into the night. He always played a haunting melody that Julie Andrews sang in the movie Darling Lilly. … So walk me back home, my darling, tell me dreams really come true. Whistling, whistling, here in the dark with you. (Click here to listen to Julie Andrew's version)
It's been over three decades since I left home and it still echoes in the dark chambers of my memory, reminding me to live my passion.
Thanks, Dad, for 50 years of lessons.
My friend left a week later for Israel with a packet of Dad's ashes to scatter while he's there. Dad's last lesson on how to plan your funeral for me is still fresh in my mind, but it will stay with me for the rest of my life:
Drop some bread crumbs.
Don't take yourself too seriously.
And live your passion.
Carrie Perrien Smith is mama to Darcie and a pack of black dogs (Jazmin, Midgieboy, and Chloe — in pack order), grandma to Robert, wife to world-traveler and Walmart-blue-bleeding Tom, daughter to Wayne and Phyllis, speaker bureau and publishing company owner, Business: Engaged! small business radio show host, community activist, singer in a party band called Paper Jam, and home improvement enthusiast. Follow her on Twitter @soarwitheagles or contact her at carrie@soarhigher.com.