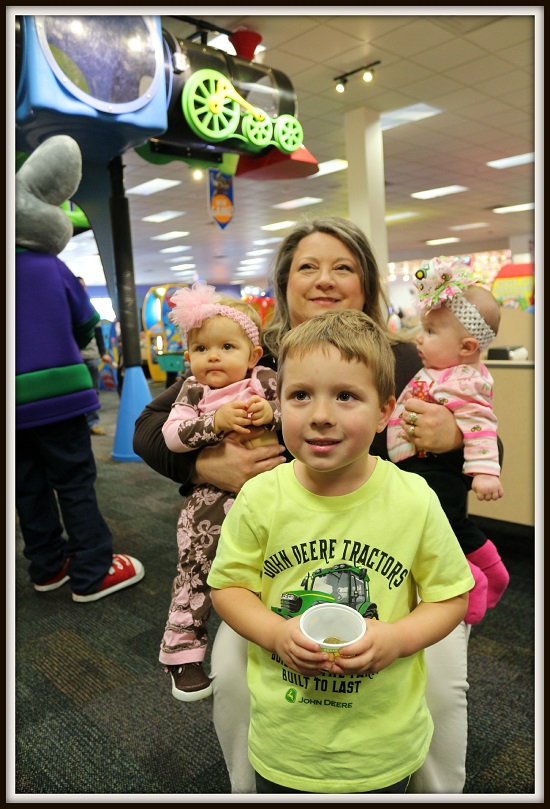 Name: Sheila Tally, 53 years young
Children's names and ages:
Brooke 32 one daughter, Ashlynne Grace 13 months.  Brandt 28, one son Landon 4 years and a daughter Bowen 7 months.
What's one movie you could watch over and over?
This was hard…I have about 3 really near to my heart movies all different.  It's a Wonderful Life, Sixteen Candles, The Painted Veil, but I have to say it would be "Fried Green Tomatoes".  I think it is due to the fact that it highlights strong woman in a time when it was not acceptable at the same time showing how one person can impact your life and change it for the better and not even realize it.
Who could forget the scene where the young girls steal her parking place she has waited so patiently and her taking her vehicle and slamming it over and over again into the young girls car…over the top? Absolutely, but lets face it, we all would like to do something equally over the top at times…  "I'm older and I have more insurance".  LOVE IT!
Tell us about some traditions you've continued with your kids, even though they're out of the "nest":
The kids all live hours away from me now so I try to find a special ornament for them to put on their own Christmas trees each year.  I look for something that fits their personality, a hobby, something of interest that matches them all.  I have the best time trying to find something new and different for the kids as well as my son and daughter in law and those 3 grand babies.
Where does your family love to play in NWA?
We all love Beaver lake or one of the many rivers.  We have always been out door lovers.  We have a sailboat we take and camp on as well as tents, canoes for the Buffalo or other local rivers and several fishing poles for bass and trout.
What's something your friends might not know about you?
I am a closet action movie lover…  I love action movies with a strong female hero.
Think "Salt",  "The Long Kiss Goodnight",  "Terminator", you get the picture.  My husband does not like these movies much so I have to watch them on the sly when he is not around or he makes fun of me and my love of a good kick in the rear action movie.
I think it is because I secretly would have liked to be a spy or been able to kick rear end and hold my own.  I think a lot of women these days feel that way.  The world has become a bit of a scary place.
If you could have vacationed anywhere in the world this summer where would it have been?
This is difficult….there are so many places, but if I were honest we usually spend the entire 4th of July week with my husbands family which is very large and all of their family and friends at the "Tally" cabin on the Lake of the Ozarks in Missouri.
My husband's family has owned this land and cabin since the fifties.  It's not fancy, but it is beautiful there and so relaxing.  The kids and grandkids can swim, play and just be kids right there on the point with all of us "big" kids to watch and supervise or play with them.  We have so many memories of years past.  It has been impossible to get to the cabin for the past 2 years and we have sorely missed it.  We have made a pact that this year we are going for at least a week.
Who would you want to play you in a movie about your life?
Oh my, if I could have anyone…Angelina Jolie.
What would the name of the movie be?
Super Granny, Defending the Defenseless.
What's something you have always wanted to learn?
All types of martial arts, kick boxing etc…OH and Ballroom dancing!  I love "So You Think You Can Dance".  Now, this is ironic because these days I can barely put my underwear on without landing on my head and struggling into a pair of panty hose or tights…that you could sell tickets to see.
What are three things you always have with you?
3 things I always have with me….I have to have my Burt's Bees Lip Shimmer in Plum.  LOVE IT…just a hint of color and feels great without being dry or too sticky.  My day timer/wallet and my phone.  It has pics of my kids, husband, grand babies…forget making or getting calls, I have to see their sweet faces at least once a day.
Tell us about a typical day in the life of Sheila:
I am Director of Patient Accounts Receivables at a fairly large Orthopaedic surgeons office. Working in healthcare is a challenge these days.  I am up at 5am since I commute 45 minutes to work from the boondocks past Elkins over the river and through the woods.
I make the coffee, feed our 2 "girls" Beans and Shady, I guess you realize they are probably dogs and feed the cat Punk.  I am at work most days by 7:45.  I have a terrific staff of 5 ladies that make up my wonderful team.
My department is responsible for billing all the charges for 9 surgeons, 2 physician assistants, 2 very busy physical/occupational therapy departments, our own MRI and durable medical soft goods such as braces, boots etc…  We are very busy and it can be a stress ball at times.
Since I live so far out my lunch time is usually as with a lot of moms and women these days with errand running or shopping, once I get home I don't usually come back into town.  I try my best to leave on time most nights, but it is not unusual for me to work at least until 6 or maybe 7 a night or two.
By the time I get home, and yes I do some errands such as grocery shopping or checking our mail at the post office on the way home, and I call my kids during my drive (hands free),  so it can be 6:30 or 7:00 even on days I leave at 5:00pm.  My husband does try to have some type of dinner started or ready and I usually try start winding down, unless there is laundry to start or other paperwork needing to be done.
I am on the Board of Altrusa of Fayetteville, the Midwest AAOE state representative and am a member of the National AAOE communications council, so there are times when I have projects for them that need to be completed.
How do you wind down at the end of the day?
I do watch TV when I have time, but am not a reality TV fan unless it is on HGTV or Food Network, of which I love to watch both!  I am addicted to "Madam Secretary, The Good Wife and Hart of Dixie".
When I finally get to bed at anywhere from 10:30pm to 12:00am I generally have to read and I am a serious reader, anything from a bodice ripping historical romance to serious Biographies and trade books for my profession (now that will put you to sleep.)  Then it is up and go another day.
One word to sum me up … Hopeful.