By this we know love,
because He laid down His life for us.
And we also ought to lay down our lives
for the brethren.  ~ 1 John 3:16 (NKJV)        
By Bro. John L. Cash
This week I noticed a wonderful chart that one of our local hospitals published. It gives a great explanation of why we're all being asked to wear masks during this time of COVID-19. Its findings are a bit different than what I would've originally expected.
At the beginning of the outbreak, I thought I was wearing a mask so I could stay well. But, if I'm reading the research correctly, wearing a mask helps protect me from catching the coronavirus just a little bit. The big reason for wearing a mask is that it helps a lot to ensure I don't spread it to others. (See the chart below to see how low the risk of infection is between two people who are both wearing masks!)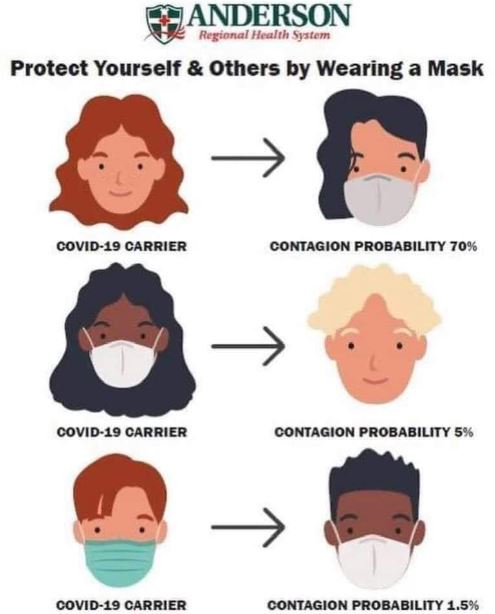 The great humanitarian Fred Rogers always said, "There are many ways to say 'I love you.'" In my way of thinking, wearing a mask during this pandemic is one of the best ways to say it. After all, we don't wear masks because it's something we want to do. Masks are hot and itchy, and sometimes it becomes a little hard to breathe. Rather than doing what we want to do, we're compelled to do what the government wants. Masks are not typically stylish either. Clearly, wearing a mask isn't fun.
But I believe that by wearing masks, we're making a profound statement: "I'm doing this because I care about YOU." That's a Christlike sentiment, and this world we live in can use a lot of that right now.
So, to all of you I see wearing a mask at the grocery store, I just want to thank you for doing that. I appreciate this "Valentine" from you.
And when you see me, I'll be wearing a mask, also.  Because I love YOU, too….
Dr. John L. Cash is the "Country Preacher Dad." He was raised in Stuttgart, Arkansas, and has spent the last 34 ½ years being a country preacher in the piney woods five miles south of the little town of Hickory, Mississippi. He's currently on a sabbatical from the preaching ministry, and is an English teacher at the Choctaw Tribal School. He and his lovely wife, Susan, live in a brick house in town (where the preacher went back to finish out the school year, with only 4 people in the building.) You can send him a note at countrypreacherdad@gmail.com.