Sing to the LORD with thanksgiving;
Sing praises on the harp to our God,                                               
                                               Psalm 147:7  (NKJV)
By Bro. John L. Cash
Over the last few years, something odd has been happening to me at Christmas time.  If I don't pace myself, I'm tired of Christmas songs before Dec. 25th ever gets here. Do you ever feel that way?
That never happened when I was a kid, but those were different times. One day in December when I was in kindergarten, my father stopped at a hardware store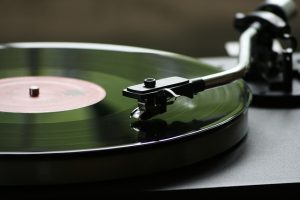 downtown and bought my sister and me a record player and a stack of Christmas records. We had so much fun that Christmas.
It was the start of an annual tradition my family repeated for decades. We started listening to Christmas music after Thanksgiving Day, and we put the albums away on New Year's. Because of this short window of opportunity, we never got tired of Jolly Old St. Nicholas and the Little Drummer Boy. They simply weren't our daily companions the other 11 months of the year.
But that's not the world we live in today. This November first, I turned on the radio in my car and was astonished to hear Rosemary Clooney dreaming of a white Christmas.  I love Rosemary Clooney (who was George Clooney's aunt) as much I as I love my own aunts. And (living in Mississippi) I would be over the moon to wake up to a snowy Christmas. But, my dearest friends, the day after Halloween simply isn't the time to start singing about hanging up your stockings. The folks in charge of holidays are rushing things. After all, November is the month dedicated to giving thanks.
To slow down this crazed rush through the holidays, I'd like to suggest a modest proposal. Somebody needs to make a rule that prohibits the playing of Christmas music until Thanksgiving Day. And it should be decreed that during the month of November, radio stations can only play Thanksgiving songs.
Now, I know what you're going to say next. "Brother John, that's not going to work because there aren't any Thanksgiving songs!" But I've given it a lot of thought, and there are plenty of thankful songs out there if you look for them and you can find them in every style and genre.
For example, there's Alanis Morisette singing about the "transparent dangling carrots" ( in the song "Thank U") and Dido complaining that her tea's gone cold ( in the song "I Just Want to Thank You.")
In classic rock, there's Sly and the Family Stone singing "Thank You Falletinme Be Mice Elf Agin." Your grandma (who might like the German carol "O Christmas Tree") would probably like to hear Wayne Newton sing "Danke Schoen." There are hundreds of Thanksgiving carols — just Google it to see. And, of course, that's not counting all the thankfulness carols and hymns from the Church.
So let's use the end-of-the-year holidays to fill this troubled world with the brightest music. How glad we'll be when our hearts are filled gratitude—especially when we give thanks for our Saviour.
 Dr. John L. Cash is the "Country Preacher Dad." He was raised in Stuttgart, Arkansas, and spent almost 35 years being a country preacher in the piney woods five miles south of the little town of Hickory, Mississippi. He's currently on a sabbatical from the preaching ministry, and is an English teacher at the Choctaw Tribal School. He and his lovely wife, Susan, live in a brick house in town (where the heat came on in the Preacher's classroom this week!) You can send him a note at countrypreacherdad@gmail.com.