"Therefore we also, since we are surrounded by so great a cloud of witnesses,
  let us lay aside every weight, and the sin which so easily ensnares us, 
  and let us run with endurance the race that is set before us"
                                               Hebrews 12:1 (NKJV)  
By Bro. John L. Cash
Well, it's good to be back with you after a (long) summer break! I've missed working on a new devotion each week, and I'm glad to be back with you, dear reader, for our weekly "visit."  As for my schoolteaching, we've returned to our classrooms each day, but we don't have students with us yet. Our school is spending the month of August learning how to teach online and also on an "A/B Hybrid" schedule. I'm sure I'll have a lot of stories to tell you about the adventures of teaching in time of COVID.
I spent this past week cleaning out my classroom. I love to de-junk and unclutter. There's just something so satisfying about starting a new year with a clean classroom, a neat office, and a blank slate. I bet you know the feeling.
However, something that all teachers will tell you is that a fresh start is not always possible. That's because every schoolroom has "The Things You Cannot Throw Away." You see, TTYCTA cannot under any circumstances be discarded. That's because they have barcodes affixed to them. The barcodes have numbers that are on the official inventory sheet in the school's headquarters. If a teacher got rid of any of TTYCTA, the people in charge of the inventory would find out. Then something bad would happen.
No teacher is really sure what bad thing this would be, but we're all sure it would be really, really bad. Maybe we'd have to replace the item out of our own money. Maybe they'd publicly humiliate us by hollering at us during the district-wide-meeting in front of all our colleagues. Or maybe they would attach an official reprimand on the cover of our Permanent Record. The only thing that's certain is whatever happened would be awful. That's why nobody is allowed to get rid of TTYCTA.
Now, it wouldn't be so bad if TTYCTA were wonderful things. But most of them just aren't.
In the past, I've been held responsible for a two-drawer file cabinet that had a cinder-block dropped on it and a desk with only 3 legs. I've been held accountable for a rolling chair with a broken back (that will hurl you to your death) and a set of cabinets that were permanently locked shut. The list goes on and on. These things were all perpetually in my way and a constant irritation. But I've never, ever gotten rid of even one. The barcodes won't allow it.
In the Little House series of books, Ma Ingalls always said, "There's no great loss without some small gain." There's a lot of truth to that, even in time of COVID. This year, we've got to have students 6 feet apart in the classroom. So, as a result, they're letting us move some things into storage.  I've even been allowed to get rid of TTYCTA! Life is good.
Isn't wonderful to know that the Christian life doesn't have TTYCTA? Today's Bible lesson (at the top) teaches us that that we're not required to keep anything that hinders us in our hearts and lives. We can (and should) get rid of anything that is getting in the way of holy progress. St. Paul says we are all running a spiritual race. Through the power of Christ, we can get rid of "every weight, and the sin which so easily ensnares us." Then we'll be able to run well, with purpose and endurance.
This week, let's ask the Lord to help us see what hinders us. What are the things (or habits) we need to get rid of? And with the help He gives, let's set to work on clearing the way for the spiritual race before us. That way we'll be free to concentrate on the things that matter most.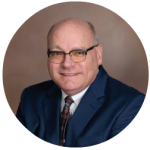 Dr. John L. Cash is the "Country Preacher Dad." He was raised in Stuttgart, Arkansas, and has spent the last 34 ½ years being a country preacher in the piney woods five miles south of the little town of Hickory, Mississippi. He's currently on a sabbatical from the preaching ministry and is an English teacher at the Choctaw Tribal School. He and his lovely wife, Susan, live in a brick house in town (where the preacher is very proud of his streamlined, minimalist classroom.) You can send him a note at countrypreacherdad@gmail.com.