26 If anyone among you thinks he is religious, and does not bridle his tongue but deceives his own heart, this one's religion is useless.  James 1:26 (NKJV)
By Bro. John L. Cash
When my sons were middle-schoolers (and going through their "mouthy stage") I used to tell them they were fluent in three languages: 1) Talking trash  2) Talking junk and 3) Talking smack.  Doesn't it seem like our entire culture is going through a mouthy stage right now?
Lately I can only listen to the news in small doses. There's so much contention and negativity, and it makes me feel stressed, tired, and queasy.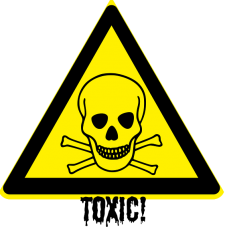 While driving the other day, a commentator on NPR described the present conversation of our nation as "toxic." That's the best choice of words I've heard in a long time.
It's a much more important situation than the world realizes. In today's scripture lesson (at the top) the epistle of James makes it clear that the way we talk is of utmost importance. Long story short, you can think you're the most religious person in the world, but if you don't watch what you say, you have a "useless" religion.
Yet and still, we shouldn't feel discouraged. As Christians, we're not called upon to draw our inspiration from this troubled world. Instead, the Bible says we're called to influence the situation around us. The Apostle Paul says it this way: "Do not be overcome by evil, but overcome evil with good." (Romans 12:21)
We can all start by changing the "vibe" in our own homes. Turn off the round-the-clock newscasts, and put some happy music on the record player. (If you don't have a record player, sell your television and buy one.) Dance with your kids. Open the window shades and let some sunlight in. Light a good-smelling candle. Make some hot biscuits and a pot of strong coffee. Get out the homemade preserves your mom gave you last summer, and invite the neighbors over to visit. The effect will be dramatic and instantaneous. Try it and see.
After you brighten your home, go out and brighten the world. Changing the world is a bigger task, indeed. Just remember Jesus said that we Christians are "salt and light." Light brightens everything it touches. And salt is healing, adds flavor, and is a preservative. Based on that, we may not be able to change everything, but we'll live our lives improving everything we touch.
This loud, sad world is never going to change unless the Lord's people get to work. Just remember — it all begins with each word we say.
Dr. John L. Cash is the "Country Preacher Dad." He was raised in Stuttgart, Arkansas, and has spent the last 32 years being a country preacher in the piney woods five miles south of the little town of Hickory, Mississippi. He's a retired Mississippi public schoolteacher with grown sons, and is now a stay-at-home-grandpa with his grandson, Landon Cash.  He and his lovely wife, Susan, live in a brick house in town. You can send him a note at brotherjohn@ilovechurchcamp.com.