17 For our light affliction, which is but for a moment, is working for us a far more exceeding and eternal weight of glory.  2 Corinthians 4:17 (NKJV)
"In the Perspective of Eternity"
By Bro. John L. Cash, "Country Preacher Dad"
The Bible teaches us that bad things are bound to happen in this fallen world but that we've got to keep it all in perspective. It's all going to work out in the long run — especially if you reckon the "long run" to be the time of eternity.
In today's Scripture verse (at the top), St. Paul has a wonderful way of explaining the sufferings we face in this present life. First of all, he says our  present afflictions are "light". Now they certainly don't feel like they're light when we're going through them. But Paul says we compare the pain of our present problems with the glory we'll receive when we see Jesus — well, there's really no comparison. The joy will be so great that the troubles of this life will not even be remembered.
The other thing Paul says about our hard times is that they only last "for a moment". Again, our afflictions don't feel like they're short when we're going through them. But when we compare the time we spend in suffering now to the infinite time of eternity that we'll spend with God, well, our troubles are "short" indeed.
The importance of perspective is not just something we read about but also something we deal with every day. Whenever you rip off a band-aid, you know it's going to hurt for a second but then you'll have the joy of looking at the place where your wound is now healed. Whenever the surgeon says he's going to yank out those drain tubes, you know there's going to be a sharp tug and a sting but then you can put on your clothes and go home. Whenever the nurses come in to tear off all that adhesive tape, you know it's going to smart, but afterwards you can leave ICU and see your family. It's just a matter of keeping the right perspective.
Perhaps the place where we see this perspective most clearly is the birth of a child. Yes, there's the pain of labor and delivery, but. after the last "push," all the pain is forgotten. The pain is forever forgotten and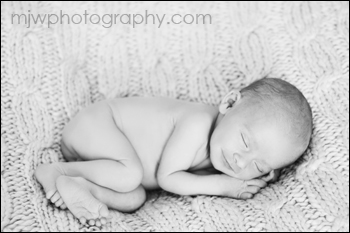 replaced with joy over the new life the Lord has sent into the world—the world has been blessed with a new baby.
Dear mamas, let's keep things in proper perspective this week. Jesus is with us in our trials—which one day will be over and seem inconsequential when we see Him in glory. Let's live this week with eternity's values in view.
(Thanks to Melinda Worthington of MJW Photography for allowing us to use one of her favorite newborn baby shots to illustrate this post.)
Dr. John L. Cash is the "Country Preacher Dad." He was raised in Stuttgart, Arkansas, and is in the middle of his 25th year of being a country preacher in the piney woods five miles south of the little town of Hickory, Mississippi.  He and his lovely wife, Susan, and his sons, Spencer (age 21) and Seth (age 18) live in the parsonage next door to the Antioch Christian Church (where the Preacher's chest hair is still missing big patches that he lost to the adhesive tape of his recent excellent treadmill test.) He would love to hear from you in an email sent to countrypreacherdad@gaggle.net.
Note from the mamas: The Summer Remix symbol appears on posts previously published on nwaMotherlode that were noted as a "reader favorite". If you missed the original publication date, we hope you'll enjoy this encore performance. Happy summer!