11 ¶ A word fitly spoken is like apples of gold in settings of silver. Proverbs 25:11 (NKJV)
By Bro. John L. Cash, "Country Preacher Dad"
The right word spoken at the right time can be a treasure.  And I never cease to be amazed where some of these cherished phrases originate.
About 20 years ago I spent my days teaching middle school students. I have happy memories of teaching 5th and 6th graders and often make myself smile by thinking about those days. To me, middle-schoolers were a wonderful age of students to teach. They were old enough that they could do a lot of things without teacher assistance. Still, they were little enough that they still had a bit of "fear" of the teacher that made it easier to keep classroom discipline. But, best of all they, they were young enough that they still had a bit of affection in their hearts for all their teachers. I was often touched by their kind words and thoughtfulness. It was from one of my 6th graders that I heard one of the sweetest sentiments I've ever heard.
It happened when I was having a very bad school day. Nothing was going right. I don't remember all the things that were going wrong, but I do remember a scary thought that passed through my mind that day: "If one more thing goes wrong, I may start crying."
(Now, mamas, I rarely have that kind of thought. Men are trained not to show their emotions. It's very rare indeed when I reach that sort of breaking point. But when I do, it has been an exceedingly bad day.)
Beginning a new class period,  I turned around to get an absentee slip out of my desk drawer, and that's when "one more thing" went wrong.  The drawer unlatched at the back and pulled completely out of the desk and crashed to the floor. The crash sent a metric ton of chalk, paper clips, push-pins, loose change, and every sort of junk rolling into the far corners of the room. As you can imagine, the 6th graders roared with laughter.
I turned suddenly and faced the class. My face went pale and then flushed bright red.  The students became strangely quiet. I closed my eyes and clenched my fists. And as I shook my fist (at no one in particular) I quietly spoke four words — words that Job spoke in the Scriptures so many years ago: "Why was I born?"
Again, the room became quiet — this time for a long time. Then the silence was broken by the words of a young girl:
"To be our teacher," she said.
"What?" I asked.
She spoke again. "To be our teacher. God made you to be our teacher, Mr. Cash.  That's why you were born."
I have been alive nearly 50 years, and, to date, that's one of the nicest things anyone has ever said to me. It must have been important to me, too, because I remember it nearly two decades later. It made me realize the importance of words. Sometimes, somebody can say a sentence that will turn a bad day completely around. Sometimes a person can say something that will remind the struggling one of his purpose in this world.
Dear mamas, never forget that your words have power. You have the power to turn someone's day (or whole life) around. Use your words well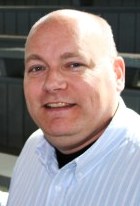 this week.
Dr. John L. Cash is the "Country Preacher Dad." He was raised in Stuttgart, Arkansas, and has spent the last 25 years being a country preacher in the piney woods five miles south of the little town of Hickory, Mississippi. (On week days he works at a public school.)  He and his lovely wife, Susan, and his sons, Spencer (age 19) and Seth (age 16) live in the parsonage next door to the Antioch Christian Church (where the Preacher is trying to keep his words tender and sweet—because he may have to eat them tomorrow. ) He would love to hear from you in an email sent to extramailbox@juno.com.