3 Behold, children are a heritage from the LORD, The fruit of the womb is a reward.
4 Like arrows in the hand of a warrior, So are the children of one's youth.
5 Happy is the man who has his quiver full of them; They shall not be ashamed, But shall speak with their enemies in the gate.  ~  (Psalm 127:3-5, NKJV)
By Bro. John L. Cash
Some time last year, I feared I had "lost my muse." It felt like I'd lost my ability to write anything interesting or meaningful. After further introspection it became clear that the change in my ability wasn't because of anything I had misplaced. Instead, the differences had come from something I'd "gained." In short, I was keeping my infant grandson every day while his parents went to work.
All this reminded me of a column Gwen Rockwood wrote when her first son, Adam, was a baby. She said the only way she could write was by creating a play area in the bathroom and barricading herself and the baby in there while she wielded a pencil and a yellow pad. I've sort of been reduced to doing the same thing.
I used to advise new parents, "Don't plan on getting anything done for about 2 years. If you accomplish anything at all, just consider it 'gravy'." At the time I didn't realize it would apply to me again as I became a stay-at-home grandpa.
Baby Landon is 16 months old now. I spend about 10 hours a day with him most weekdays. It's wonderful, and tender, and joyful — and exhausting. Sometimes at suppertime I'm so tired that I hurt. But I wouldn't trade it for anything.
One of the best things about getting older is that you gain perspective. I've always been told when it comes to child-rearing that "The days are long, but the years are short." That was certainly "the gospel" when I was raising my children. I'm sure it's going to be even more so as I help raise my grandchildren.
This week, let's ask the Lord to bless (and give strength) each day as we spend them with our children. Living each day in His presence brings about the joy of blessèd months and blessèd years.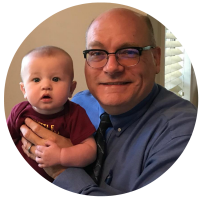 Dr. John L. Cash is the "Country Preacher Dad." He was raised in Stuttgart, Arkansas, and has spent the last 32 years being a country preacher in the piney woods five miles south of the little town of Hickory, Mississippi. He's a retired Mississippi public schoolteacher with grown sons, and is now a stay-at-home-grandpa with his grandson, Landon Cash. He and his lovely wife, Susan, live in a brick house in town (where the house cat is busy watching out the window, too.) You can send him a note at brotherjohn@ilovechurchcamp.com.