9 I will praise You, O Lord, among the peoples; I will sing to You among the nations.  ~  Psalm 57:9 (NKJV)
By Bro. John L. Cash
If you're racking your brain trying to think of a good present for that special child in your life, let Brother John help you out here. Buy a vintage Califone record player. You had a record player when you were a child, didn't you? Did you like it? No, of course not… you LOVED it! So, why haven't you bought your child one already?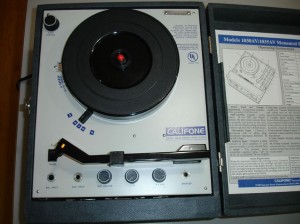 You may be wondering what a "Califone" is. The Califone company made those sturdy, grey, "industrial" phonographs like the one your schoolteacher used when you were in the 2nd grade. They are great for children to play with  because they were made to last; the ones that I have owned were made in the 1960's and 1970's and still work as well as they did the day they were manufactured.
Surprisingly, you can buy a second-hand Califone pretty inexpensively if you keep your eyes open. This past week I bought a Model #1035AV off of Ebay for $25.50 (plus $25.00 postage.) My goodness, can you even take your family to the movies for $50.50? Imagine my amazement (and joy) when the UPS delivered my newest Califone and I discovered that it was brand-new! (Evidently a school in Minnesota bought a record player 35 years ago, and for some reason it sat in a closet all that time without anybody using it.) Christmas surely IS the season for miracles….
(A caveat here: Whatever you do, don't buy your kids one of the portable record players that companies manufacture now. They are made out of dog-hair and molasses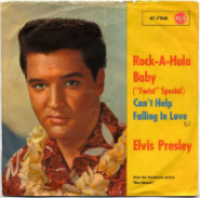 and will break before your kids get the rest of their presents opened. Then they will never get to hear Elvis sing, "Rock-a-Hula Baby." But, I digress….)
Anyway, if you buy your children a Califone, I think you're going to be very surprised. You've introduced them to a very engaging and inexpensive hobby that will keep them busy for years to come. Thrift stores (that support ministries) always have stacks and stacks of records to look through, and many of them sell for one dollar (or even less).
There are so many good things about Califone phonographs. But the best thing about them is that they are portable. They are little suitcases (of music and joy) that children can carry with them wherever they go. And wherever they go, people smile and feel kind of happy.
I think there probably would be more happiness in the world today if more people had phonographs. Or maybe we just need more Christians to spread happiness like a Califone! 🙂
Note from the mamas: The Rockwood kids have a Califone record player and they LOVE it. It's fun for kids (and parents) to find old records to add to the collection.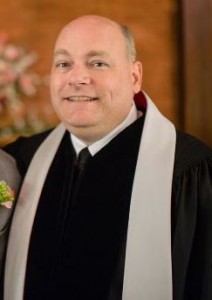 Dr. John L. Cash is the "Country Preacher Dad." He was raised in Stuttgart, Arkansas, and has spent the last 30 years being a country preacher in the piney woods five miles south of the little town of Hickory, Mississippi. (On week days has a desk-job at a public school, where he used to teach Latin on closed-circuit-television.)  He and his lovely wife, Susan, live in the parsonage next door to the Antioch Christian Church (where the Preacher's son said that Bro. John should get a tattoo of a Califone.)  Their kids include Spencer (age 24), his wife Madeline (age 24), and Seth (age 21). You can send him a note at brotherjohn@ilovechurchcamp.com .