13 ¶ Happy is the man who finds wisdom,
       And the man who gains understanding;         Proverbs 3:13  (NKJV) 
By Bro. John L. Cash
Before I retired from school teaching, I was always pressed for time. It seemed like I always had just enough time to get ready for Sunday worship, if I scurried like a rat and everything went flawlessly the first time. When things didn't go smoothly, I really got bent out of shape. That's a very bad way to start the Lord's Day.
The thing that bothered me most is whenever Susan moved my stapler. More than once, I've printed off my sermon, the prayer requests, and my Scripture lections, and reached into my desk drawer to get my Swingline stapler so I could staple things together, only to find it was missing. When asked about it, Susan would always apologize and say she'd borrowed my stapler and left it at the office, or at church, or in her Sunday school classroom. Angrily, I would affix the corners of my papers together with tiny pieces of Scotch tape.
On such a morning, I arrived at the church early and was happy to find one of my elders preparing communion. As we discussed our mornings, I ranted, vented, and fussed about how aggravated I was that Susan had (again) taken my stapler. My elder, who is older than me, and quieter than me, and wiser than me, listened to my story sympathetically. Then he gave me advice that was some of the best I've ever received: "Brother John, Susan is a good woman and a good wife. Just buy another stapler."
My goodness. I felt like that guy who thumps himself on the forehead on the V8 commercial as I realized the truth of my elder's words. Susan IS a good woman. She IS a good wife to me. She is my soulmate and the love of my life. All I need to do…is buy another stapler.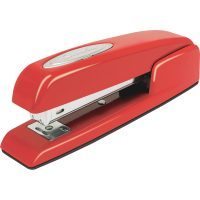 So, since that day, I've taken my elder's advice. I tend to buy very nice staplers, like those red Swinglines  you see on The Office. (So far, Susan has never complained about the cost, since she does have a role in this.) I try to keep one hidden at all times, just in case mine disappears. And since Susan always eventually brings my staplers back, we now have a multitude of them. Long story short, I'm always able to staple my papers on Sunday morning.
I see now why the Holy Scriptures put such a great emphasis on the virtue of Wisdom. I'm finding that most days I don't need a new situation or new surroundings or a new start. I just need a quiet word and the wisdom to know how to "tweak" the day I'm living. Wisdom is always able to cut to the heart of the matter and bring the truth to light.
So, this week, pray that the Lord will lead you to godly counsel that will help you know what you should do.
(And hide an extra stapler in your sock drawer.) ?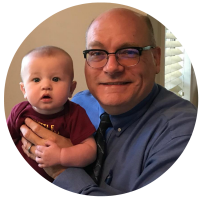 Dr. John L. Cash is the "Country Preacher Dad." He was raised in Stuttgart, Arkansas, and has spent the last 32 years being a country preacher in the piney woods five miles south of the little town of Hickory, Mississippi. He recently retired after 28 years as a Mississippi public schoolteacher, and is now a stay-at-home-grandpa with his new grandson, Landon Cash. He and his lovely wife, Susan, live in a brick house in town (where the Preacher has a beautiful blue Swingline stapler on his desk today.) Their kids include Spencer (age 26), his wife Madeline (age 26), and Seth (23), and his wife Leanne (age 22). You can send him a note at brotherjohn@ilovechurchcamp.com.