27 ¶ Do not withhold good from those to whom it is due, When it is in the power of your hand to do so.
 28 Do not say to your neighbor, "Go, and come back, And tomorrow I will give it," When you have it with you.   Proverbs 3:27, 28   (NKJV)
By Bro. John L. Cash
My older son, Spencer, has just finished his first year as an educator. I think he is a great teacher, and he loves his work. Spencer went to community college for two years (which is a very common thing to do in the state of Mississippi) and then studied for his last two years at Ole Miss. He received a scholarship that paid his room, board, tuition, and books for two years at The University. That's a pretty hefty chunk-of-change. Spencer's parents are very, very thankful for this blessing.
But the scholarship that our son received had one stipulation. If Spencer taught for two years at an "in need of help" public school, the entire amount of the scholarship was forgiven. If not, the entire amount of the scholarship would be treated as a loan that must be repaid with interest. He made it his mission to be hired at a qualifying school from the official list.
Spencer graduated last May, got married in July, and by August was not able to secure a teaching position at a school that was on the official-scholarship-repayment-list. Having a wife to support, he decided to take an available teaching job at a local middle school. He was told up front that his year at this school would NOT count toward the repayment of his obligation. He would still be fully indebted even though he had finished teaching an entire year of school.
Flash forward to last week. Spencer called some bureaucrats in another state to update them on his progress and to make sure the necessary paperwork had been received. The man on the phone said, "Yes, we've received your paperwork. And, by the way, we've given you credit for your year of teaching. We've repaid one year of your scholarship. We recognize your school is not on the official list, but you're doing a good job. So I opened the repayment screen on the account. And I 'pressed the button' for you."
Just like that, $20,000 was paid. And we are eternally grateful to that man. He had the authority to press the button. He was allowed to press the button—but he didn't have an obligation to do so. I'm so glad he pressed the button. It made a world of difference for our family.
God has given us all resources and influence. We all ought to do everything we can to "press the button" to help others whenever we get the chance. Today's Scripture lesson (at the top) has a lot to say about that subject. Take a moment to read it, and ask the Lord to show you who you can bless as you go about this new week.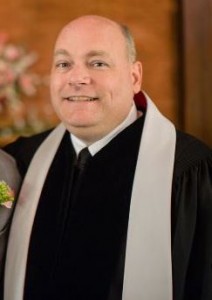 Dr. John L. Cash is the "Country Preacher Dad." He was raised in Stuttgart, Arkansas, and has spent the last 28 years being a country preacher in the piney woods five miles south of the little town of Hickory, Mississippi. (On week days has a desk-job at a public school, and until recently taught Latin on closed-circuit-television.) He and his lovely wife, Susan, live in the parsonage next door to the Antioch Christian Church (where the Preacher has posted Bible Camp registration forms at www.ilovechurchcamp.com.) Their kids include Spencer (age 23), his wife Madeline (age 23), and Seth (age 19).
Looking for a wonderful (and inexpensive) Christian summer camp for your children? Check out our website at www.ilovechurchcamp.com for details.