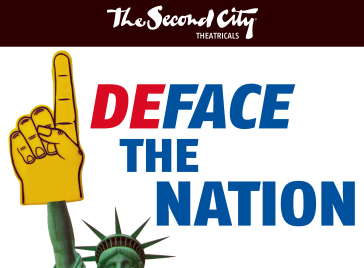 You know what the only thing better than a great date is? A FREE Great Date! As in, free tickets to a great show at the Walton Arts Center. Heck, we'll even throw in dinner at Bordinos Italian restaurant, just down the street. All you need to do is send us an e-mail at mamas@nwamotherlode.com, and we'll put your name in the hat for the drawing. If you like, tell us why you really need a Great Date and we may publish your witty or heartfelt answer on the website soon. If you copy your friends on the e-mail to let them know about our site, we'll put your name in the hat again for every friend you tell. Enter the drawing by 6 p.m. tonight (Thursday) so you'll have a chance to win. Here's a little more info about the show:
On Friday, September 5, Chicago's legendary comedy improv theatre The Second City will appear at Walton Arts Center at 8 p.m. Deface the Nation is The Second City's all-political revue with customized comedy for the election year. Featuring scenes and songs that poke fun at both political parties and a variety of pundits, The Second City proves that there's no shortage of comedy coming out of Washington D.C. Tickets for The Second City: DeFace the Nation range from $20-$32 and can be purchased by calling the Walton Arts Center Box Office at 479-443-5600 or by visiting waltonartscenter.org.
Founded in Chicago in 1959, The Second City has become the premier training ground for the comedy world's best and brightest. Their alumni list reads like a who's who of American comedy, as it includes: Mike Nichols, Elain May, Alan Arkin, Joan Rivers, Robert Klein, Peter Boyle, Harold Ramis, John Belushi, Dan Aykroyd, Bill Murray, Gilda Radner, George Wendt, Martin Short, John Candy, Bonnie Hunt, Tim Meadows, Chris Farley, Mike Myers, Tina Fey, Steve Carell, Stephen Colbert, Julia Louis-Dreyfus, Horatio Sanz, Ryan Stiles and countless others.
Not only will an evening with The Second City provide audiences with the chance to see comedy stars in the making, but they will also have the opportunity to see absolutely hilarious satire and cutting-edge improvisation. From Bush to Clinton to Obama to the other Clinton, DeFace the Nation is a hilarious romp through the beltway and beyond. No topic or subject matter is off limits for The Second City. If your parents asked you not to speak about it at the dinner table, chances are it will be made fun of in an evening with The Second City.
Good luck, ladies! Don't forget to e-mail us be 6 p.m. tonight. We'll announce the winner on Friday.