2022 Northwest Arkansas Winter Break Activity Guide: Fun things to do while school is closed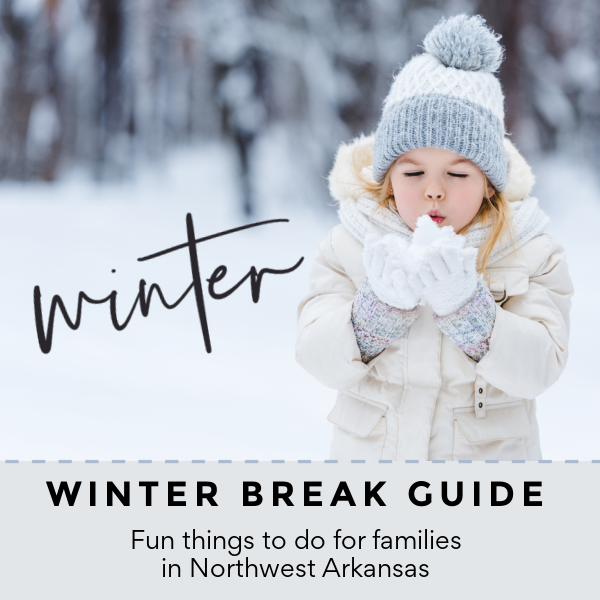 Need a little inspiration for fun winter break activities? Here's a 2022 Winter in NWA Bucket List. Also look for 2022 New Year's Eve activities at the bottom!
1. Skate the day away. Ice skate or swim at the Jones Center (indoors) in Springdale or ice skate at Lawrence Plaza in Bentonville (outside). The Jones Center will begin Skatemas Break on Dec. 26 with public skating sessions for just $3/person.
There are also some roller skating options, including Starlight Skatium in Fayetteville (they'll have expanded hours over Winter Break) and Great Day Skate Place in Bentonville.
2. Play the day away. A great place for kids to play inside is Fast Lane Entertainment in Lowell. They have bowling, arcade games and and even a big play structure that even the littles can have fun climbing. There's also the Amazeum Children's Museum in Bentonville, which has fun interactive exhibits for all ages. The Little Gym in Rogers has Winter Wonderland Camps.
3. Go bowling. Not only can you bowl, but you can also play laser tag and try virtual reality games at Fast Lane Entertainment in Lowell. You can also try to bowl a spare at Ozark Lanes in Fayetteville, Rogers Bowling Center or Springdale Bowling Center,
4. Jump your sillies out. Jump your sillies out at Altitude Trampoline Park in Fayetteville or Defy trampoline park in Rogers. Flip Side Ninja Park is a gym in Lowell that also offers special events.
5. Climb the walls (safely). Let the kids climb their cabin fever out at Lewis & Clark in Springdale, at the Ozark Climbing Gym in Springdale or Climb in Bentonville.
6. Enjoy Winter Break Wonders at Crystal Bridges. Special activities each afternoon at Crystal Bridges, including artmaking, creative play, paper icicles, winter wind chimes, movement activities, art carts, visits by nature experts and local artists, and more. 1-4 p.m. daily through Jan. 2. Here's a complete list of Crystal Bridges' holiday events.
7. Play arcade games. If you like Pac-Man and Zelda, try Retrocade Arkadia in Fayetteville has all the vintage machines. Of course, Fast Lane Entertainment has lots of arcade games for big and little kids.
8. Visit a museum. Why not learn something new while hanging out at a great NWA museum on a cold winter's day? We already mentioned Crystal Bridges which is perfect for a fun indoor activity that also enriches. There are permanent and traveling exhibits to check out in addition to classes, workshops, a big art room for play — plus lots of events. You can also enjoy the 50,000 square foot Amazeum Children's Museum, which isn't far from Crystal Bridges and offers "Priceless Nights" on Wednesday nights (donation only for admission). Crystal Bridges and the Amazeum both have food options, too.
If you want your kids to learn more about history, there's the Museum of Native American History in Bentonville and Shiloh Museum of Ozark History in Springdale. If you visit the Walmart Museum in Bentonville (which has some fun, old-fashioned candy available for purchase), be sure to stop by the Spark Cafe next door for ice cream. There's also the Rogers Historical Museum, the Clinton House Museum in Fayetteville, the Lowell Historical Museum, the Arkansas Air and Military Museum and Headquarters House Museum.
9. Create something. You can make art together at Imagine Studios, Painting with a Twist and Community Creative Center. There's also Art & Soul Studios in Rogers for an artistic outing.
10. School's Out Day Camp (all day) at Rogers Activity Center. Send the kiddos to Rogers Activity Center School's Out Camps for all-day care. They'll go on field trips and have fun while school's out.
11. Play laser tag, inside or out. Complete a super-cool mission at Modern Mission. They've got outdoor indoor laser tag or an indoor battlefield to tackle in Fayetteville.
12. Visit a bookstore. The Dickson Street Bookshop in Fayetteville is so much fun to roam. You'll definitely get lost in the stacks. There's also the adorable Once Upon a Time Books in Tontitown and Bentonville. And Fayetteville has a new book shop near the Square: Pearl's Books. There's also Barnes & Noble in Fayetteville and Rogers.
13. Visit your local library. Browse the books, play with puzzles, listen to a story time or attend an event at the big public libraries in Bella Vista, Bentonville, Rogers, Springdale (home of the "duck park") or Fayetteville.
14. Get dramatic at the theatre. You can see some great holiday shows at Walton Arts Center or Theatre Squared.
15. Watch some planes! Thaden Field is a great spot for the kids to see planes flying to and fro. The 22,000 square foot Thaden Fieldhouse on the Northwest side of the airport houses an aviation exhibition center, a retail space, and a large balcony allowing visitors to watch as aircraft come and go from the nearby runways. And there's a cool restaurant called Louise where you can see the planes, too. (The food is awesome!) Not to mention the games to play on the lawn (if it's not too cold)!
16. Find out where bluebirds come from. They're not creating new Bluebirds of Happiness at Terra Studios outside of Fayetteville, but you can still see them on display. If it's not too cold, walk around and see all the quirky sculptures. There's also a gallery featuring local art of all kinds.
17. Catch a movie. You should check out the reclining seats at the newly-renovated Fiesta Square and Razorback Malco theatres, both in Fayetteville. And have you visited Skylight Cinema in Benonville? You can eat dinner while you watch a movie there!
18. Watch real eagles! Hobbs State Park has offered eagle watch tours on Beaver Lake for many years. Every cruise is different. You never know what wildlife you will see. According to Chelsea Porter, park interpreter, "We have always been lucky seeing eagles on our tours; some mature, some immature, and we always see other beautiful wildlife as well. It could be migrating osprey, great blue herons, king fishers, deer, or red-tailed hawks. No one will ever be disappointed on our eagle tours." Tickets must be purchased in advance. For more information and to make reservations, call 479-789-5000.
19. Snow ski. Did you know you can take your family skiing at a small ski area that's only four hours from Northwest Arkansas? It's called the Snow Creek Ski Area in Weston, Missouri. It's a fun, easy ski trip relatively close to home that won't cost you a ton of time (and no plane tickets are necessary)! They offer lessons there, too. If you're not a skier, they also have snow tubing at Snow Creek.
20. Go see the holiday lights before they're gone! Here's a list of where to see holiday lights in Northwest Arkansas.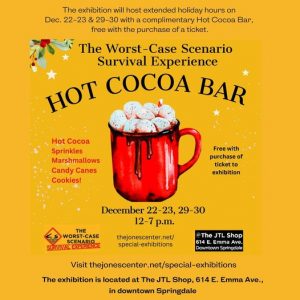 21. Make it through (a fun) Worst-Case Scenario. The Worst-Case Scenario Survival Experience at The Jones Center in Springdale is a fun & immersive physical challenge for the family. There's a complimentary cocoa bar Dec. 29-30!  The STEM-based exhibit provides the essential instructions for what you need to know when facing unexpected—but possible—real-life scenarios with moments of family fun and excitement along the way. You can also swim and ice skate at The Jones Center. And don't miss the center's fun Runway bike park.
22. Attend a New Year's Eve event. 
Noon Year's Eve at Crystal Bridges. Museum Ring in the New Year—without staying up past bedtime at Crystal Bridges. This family-friendly New Year's celebration is packed with fun for the young and the young-at-heart alike. Guests will be rocking around the clock and bringing the best parts of yesteryear into 2022 with nostalgia-inducing games, live music, dancing, artmaking, performances in the galleries, a Coca-Cola toast, and more. Dec. 31; 11 a.m. to 3 p.m.
Zing in the New Year at the Amazeum on December 31 from 10 a.m. to 3 p.m. (9 am for members). This year's activities are all about the iconic NY ball drop , we'll be exploring this event through interactive activities with an Amazeum twist (of course!).
New Years Eve at Starlight Skatium for littles and teens. Enjoy a daytime family-friendly event to celebrate the New Year. Party hats & noisemakers included and countdown to a balloon drop at 3pm. The little ones can't always stay up to ring in the New Year, so they are throwing a daytime bash to celebrate the start of 2023. Admission is $10 and includes skate rental, NYE party hats & noisemakers. SkateMates available for rent for $3. Enjoy a giant indoor snowball fight and a Candy Scramble on the skate floor. The countdown is at 3pm with a prize-filled balloon drop. No charge for non-skating parent spectators. No coupons or passes accepted for NYE special events. There's a late night party geared for preteens and teens. The NYE Late Night Skate is from 7pm-2am. Tickets are available at the door.