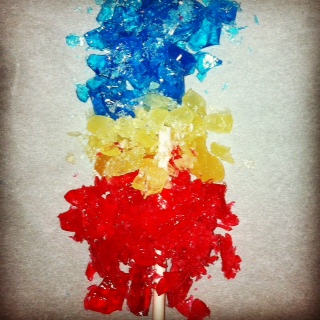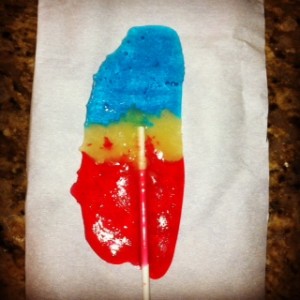 Guest post by Melanie Hewins, owner Imagine Studios
This is one of my favorite projects from the Imagine Studios' Gourmet Gallery art camp.  It's a simple project that's not all that messy plus it's perfect for any age.
The end result makes a tasty treat for the kiddos or you can give it away as a hand-made gift! Just wrap it in a cellophane bag and tie on a cute bow. You can also buy sugar-free candy to make it a slightly healthier treat.
Supplies:
Hard candy in assorted flavors and bright colors (Lifesavers and Jolly Ranchers are great!)
Zipper plastic sandwich or snack-size bags
Lollipop sticks (Hobby Lobby)
Parchment paper
Cookie sheet
Hammer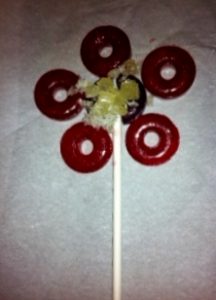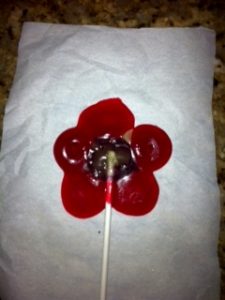 Directions:
Preheat oven to 325°
Cut pieces of parchment paper into approx. 4 x4 squares.
Sort candy into like color piles
Unwrap 2-3 pieces of each of the colors you want to use and place them into plastic baggies.
Carefully seal the bag and place it on a hard surface—we go outside and use the concrete, but at home we use our granite countertops.
Using the hammer, give each bag of candy a few hard whacks.  The candy should be crushed but not pulverized.
Lay a square of parchment paper onto the cookie sheet and place a lollipop stick in the center.
Create a design with your crushed candy.  You can do stripes, make a pattern, or go completely abstract.  Have fun and be creative!
Place in oven for about 3 ½ to 4 ½ minutes.  It's best to turn on the oven light and keep your eye on the suckers—remove from oven when the edges begin to bubble.
I give the lollipop stick a quick twist right when I pull it out of the oven so the melted candy sticks better.
While the candy is very hot, you can be more creative by adding candy sprinkles, gummy worms or other candies to the top.  Just don't touch the hot candy!
Allow to cool for about 5-7 minutes and then peel from parchment paper and enjoy!
Melanie Hewins is the owner of Imagine Studios, located in Village on the Creeks in Rogers, AR. She offers art workshops for kids and adults, summer camps, arty parties, paint-your-own pottery and more! Visit Imagine Studios website at http://imagine-art-studio.com