If you haven't been to The Jones Center in a while, you've got some catching up to do.
For example, did you know they now have an amazing fitness center and that the monthly fee is crazy inexpensive? The 220,000-square-foot Jones Center now offers gymnastics, too.There's always something new and fun to do there.
This summer, the Jones Center has added some awesome summer camps to the mix:
♦ Basketball Camp (June 9-13)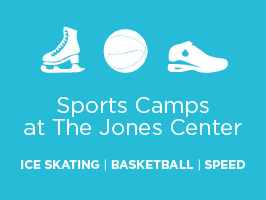 ♦ Speed Camp (June 16-20)

♦ Ice Skating Camp (June 23-27)
And, as everything always is at the Jones Center, the camps are a great value. Only $50 for each week-long camp.
Camp War Eagle has also partnered with The Jones Center to host 2- and 4-week camps. Click here to see more about these cool camps for kids 7-11 years old.
The Jones Center is still a great place for a birthday party at the pool, the ice skating rink or in the gymnastics room.
Go visit The Jones Center and tell them Gwen & Shannon at nwaMotherlode sent you. We appreciate our sponsors and love it when you tell them you saw info about events and activities here. CLICK HERE to visit the main website or call 479-756-8090. CLICK HERE to read more about the summer camps.