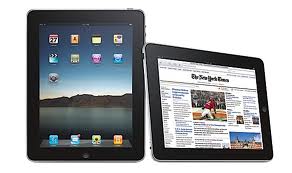 We hate to brag, but we really do have very cool sponsors here on nwaMotherlode. One of our sponsors, Dr. Jesse Gray of Northwest Orthodontics in Fayetteville, came up with the cool idea to have a drawing for an iPad, his way of taking the sting out of facing the end of summer break! (And no, you don't have to be a patient to win it. No strings attached.) If you'd LOVE to have an iPad, be sure to go by Northwest Orthodontics sometime on Monday, Tuesday or Wednesday because a winner will by chosen at random on Thursday, August 19th — the first day of school.
All you have to do to throw your name in the hat for the iPad is to stop by the Northwest Orthodontics

office to put your name in the drawing. They'll be serving free Hawaiian shaved ice for all the visitors, which is nice because it's been about 200 degrees outside lately. Your kiddos will love it.
If you have kids, chances are that one day you're going to need to know a good orthodontist. So this is a good chance to meet a great one. He's a fellow parent with five little kids of his own, and his patients can't say enough good things about him. Dr. Gray LOVES all things technology and was one of the first guys I knew to own the iPad when it hit stores. When he told me how cool it was, I couldn't wait to get my own. I'm a bonafide iPad junkie these days. 🙂
Dr. Gray's office is located at 1898 N. Hunters Ridge in Fayetteville. That's very close to the intersection of Mission Boulevard and Crossover Road. Call their office at 479-521-4181 if you need directions. Enjoy your shaved ice, and tell Dr. Gray we said hello! (Below is the invitation Dr. Gray posted on his Facebook page.)