By April Wallace, nwaMotherlode contributor and local mama
Five years ago this month, I returned from a whirlwind trip to New York City with a big, shiny rock on my finger. It was time to plan our wedding!
But given that my fiance had a son, the overriding responsibility I faced was my upcoming stepmotherhood.
Coincidentally, a bus arrangement that ordinarily carried Jackson from school to his afterschool program changed, so I snatched up the opportunity to get to know him better.
I would pick him up from school daily until things changed.
That last day finally came a week or two ago when it all came together—Jackson's
license, the insurance, the new-to-him truck we presented him with—and our daily rides came to an end.
Looking back, it did what I hoped it would. It grew our relationship, taking me from dad's girlfriend to full-on stepmom—complete with his ability to take me for granted and treat me much like he treats his bio parents, in both good and bad ways, of course.
Leaving this phase behind has brought on lots of mixed feelings for me.
It's hard to say goodbye to the easiest conversation window of the day now that he's a typical teenager who requires a game of 20 questions to speak to me.
Picking him up gave me a starting point since I was the first to hear what happened that day while it was fresh on his mind.
Early on, when he was 11 and 12, I got all the good stuff. I knew what his friends said, what they all wanted to do on weekends, what toys or gadgets they envied, where they wanted to have birthday parties and what was happening in the book he was reading. I got to hear him sing or hum along to the radio and it gave me some pride to know what he wanted as a snack when we got home, not to mention a good handle on his favorite meals and desserts, the easy-pleasers.
Getting him from clubs and sleepovers were some of the best times, when he had the most energy and excitement for things he was doing while surrounded by people he chose to be with.
In that first year of driving him around, Jack and I had a lot of fun because I could whisk him off to somewhat spur-of-the-moment treats like film screenings, art shows or even just through Sonic for a special snack or drink.
After we told Jackson I was pregnant with his first little brother, our after-school car rides and outings to get his cherished Taco Bell burritos gave us plenty of one-on-one time where he could ask me anything he wondered about. Where would baby Henry sleep? Could he cry inside my belly? Will we name him Garglbar the Destroyer, please?
Once we added junior high track meets to the mix, that catapulted us into territory with a greater range of ups and downs.
Getting up extra early on weekends to drive long distances and sit on cold bleachers is not something everybody loves, especially with a brand new baby in tow. But it is what moms of all sorts do, along with the photo taking, the sideline cheering and being ready with some bananas and hydration at the finish line.
Being there for not only his best/PR days but the times that he felt disappointed in his performance or the team results pushed us into new emotional ground.
I'd like to think that choosing to be his consistent ride for so many years helped him internalize the truth, which is that I am always here for him and ready to listen to the important, to the inconsequential and everything in between.
I knew that it started to set in, that I'd always be there, when one day he texted me urgently from school. What was this big emergency, you ask? He needed his Halloween costume, stat. Becoming a reliable stepmom didn't mean I'd bend to his every whim, and this was one of them. But I liked that he knew he could ask. After a little talk, he knew that ask (not demand or expect) would be the operative part next time…
Over the past five years, I got to be the one waiting on the field trip bus that was hours late and began to experience all the typical parental frustration and worry.
I got him from school early one day when we learned that a friend of his passed away, and afterward we took a long drive with the windows down and the music turned up.
On the first and last days of the semester, I'd swing through a small coffee shop and get hot chocolates to butter him up for those first-and-last-day details.
As a mother of two children ages 3 and under, I've got to admit that I am relieved to have more time to pour into them. They need more and more active time and attention, and now I'll have the wiggle room while working on potty training for one son and letter tracing for the other.
Meanwhile, I've got to figure out a different way to get time with Jackson, maybe with a dedicated weekly night to cook together and/or discussions over the dinner table.
But after so long of having him as a passenger, I feel assured that we've got a good enough foundation to build our next phase on.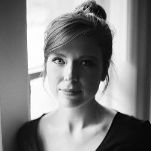 April Wallace is a stepmom to one smart, funny teenager, mama to two beautiful and curious baby boys and wife to a very kind and generous man. She spent the past decade as a news reporter, sometimes lifestyle writer, and recently left her job at the Arkansas Democrat-Gazette to be with her babies while they're still babies. When she gets a few minutes to herself, April loves to run local trails and read fiction. For more of April's posts on pregnancy, babies and toddlers, click here.