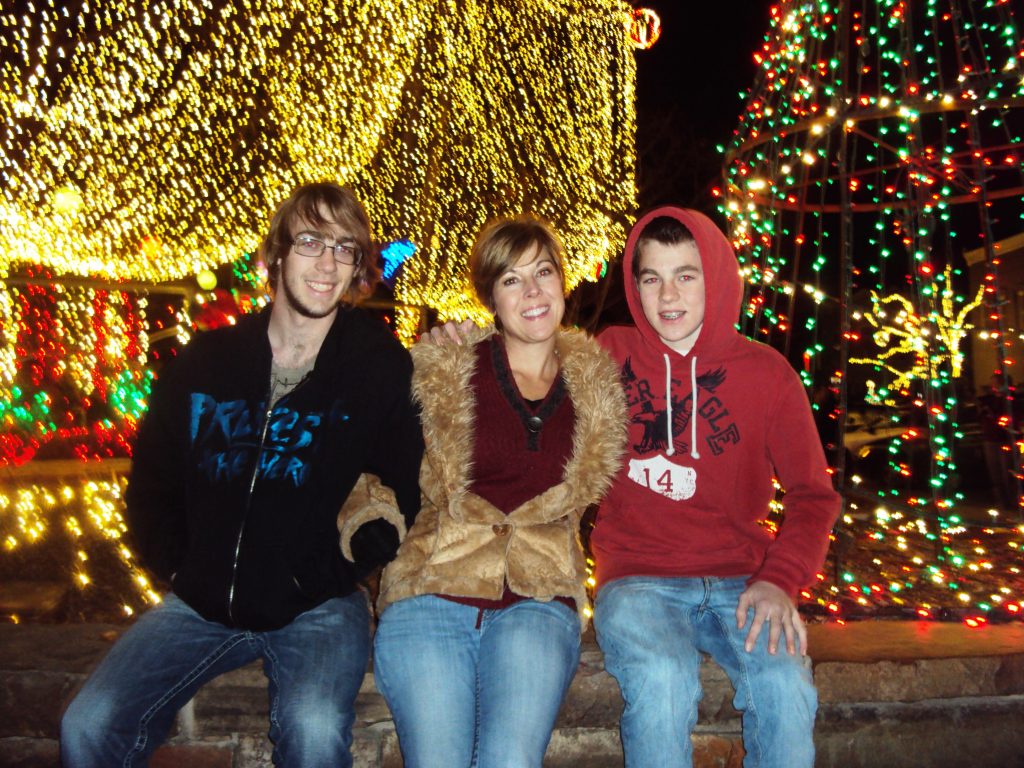 Name: Stephanie Truitt
Sons' names and ages: Austin – 17, Parker – 14
How long have you lived in NWA? I grew up in Siloam Springs, graduated HS in 1987, moved away shortly after HS graduation.  I lived in KC and Nashville and then returned to NWA in 2000.  So almost all of my life give or take 12 years.
When did you meet your husband? I have known my husband since junior high, we attended school together, but we didn't reconnect until after high school and we married in 2002.  He's a great husband and step-father to Austin and Parker.
Tell us about your job: I work for Lotta Luv, www.lottaluv.com, they are based in NYC, but I am able to office out of my home and manage our Walmart business.
What's one movie you could watch over and over again? Love Actually and Sixteen Candles.
What's on your iPod right now? Some kind of running music mix, to motivate me to keep running!  Although, I must say at the moment the music is failing me because I haven't been running in a while.
What's it like to be the mom of teenagers? Being the mom of teenagers is nothing that anyone can prepare you for.  It's like when your parents told you that you would pay for your raising.  Boy were they right!  We have our ups and our downs, but I have learned to love every moment because they are fleeting and have especially learned to treasure the good moments.  Just last night my 14 year old actually hung out in the living room with me and my husband and we joked and watched TV together, it's the little things now that I have come to appreciate.  I sometimes mourn the days when they were younger and when I could hold them in my lap.  The years go by so quickly!  It's fun watching them turn into young adults, but it's also painful to watch them go through the emotional teen years.  I just try to be there for them and guide them the best I can.
Tell us about some traditions you have with your kids: We make it a tradition to go to the Fayetteville square every year in December, enjoy the lights, get some hot chocolate, and take our family Christmas card photo and just enjoy our time together.  We also have lots of fun going on family hikes near the Buffalo River area.  It's nice to get outdoors together and out of the grind of every day life.
Favorite place to play in NWA? Buffalo River Hiking, Razorback Football games, Walton Arts Center, Beaver Lake.  There are too many fun places to name just one.
Hobbies you enjoy? I love to cook and like to experiment with recipes.  I try to keep it fresh and to use organic and preservative free foods when possible.  I do have my moments of weaknesses though and make Rotel dip every once in a while!   I also enjoy gardening flowers and vegetables.   I would really like to try my hand at canning some sauces and jellies this summer.  I also enjoy reading in my 'free' time.
What's something your friends might not know about you? That's a tough one, I'm pretty much an open book.   But I like to daydream a lot about different business ideas and how I could implement those ideas.  Anything from opening a restaurant, or a party planning business to a corn maze and the list goes on and on.
If you could vacation anywhere in the world this summer where would it be? I have never been to Europe and long to visit there.  So I would have to say Italy, France or Greece would be a dream come true.  More than likely I'll end up in Branson this summer.
Who would you want to play you in a movie about your life? Drew Barrymore – I don't know why, I have just always liked her and felt that if we knew each other in real life that we would be good friends.  Wacky thought, but why not?
Something you have always wanted to learn? I really wish I was more crafty and knew how to sew really well.  But something that I wish I did really, really well is dance.  I'm not that great of a dancer and would love to learn Salsa or something fun like that.  I can't even do the running man!
What are three things you always have with you? Lip gloss, hand lotion and allergy relief eye drops.
How do you relax? Hanging out with my friends and family is always fun and takes my mind off of the every day stresses of life in general.  In the summer, lounging by the pool in the sunshine is always nice too.
One word to sum me up …talkative