Name: Meredith Lowry
Kids' names and ages: Will, 10; John, 7; Kate, 4.
Where do you work and what do you do there?
I'm a patent attorney at Wright Lindsey Jennings. I help businesses and inventors acquire and protect their inventions and businesses.
Tell us about a typical day in your life with kids and work?
A typical day is a harried frenzy to get the kids to school right before the bell and then dinner with me trying to get them to tell me something about their day.
Then we do story time. The kids get to pick one thing that ends up in the story and I have to make it up. It's the best part of the day.
What led you to this line of work?
I wanted to help people and businesses do what they do best.
What did you want to "be" when you grew up?
A CEO, a teacher, and then attorney, in that order.
What are your favorite places to play in NWA with the family?
The Amazeum is a big favorite of ours. We spend a lot of time at the lake. We also love Gulley Park.
What's something you're "known for" among your friends?
Over-committing for projects.
What are some of the NWA causes you're involved with?
Back to that over-committing thing. I'm the co-chair for the NWA Tech Summit, which is the project for the year. I'm also involved with Single Parent Scholarship Fund of NWA, the American Diabetes Association, Artinfusion with Crystal Bridges, the Alzheimer's Association and the Amazeum. I really like helping.
What's the funniest thing that happened to you as a mom most recently?
We found a pile of blondish hair snippets in the dining room tonight.  At first, we were concerned that Kate cut her own hair, but she brought out her doll with a new pixie cut. She kept talking about how she wanted the doll to look like her. I couldn't stop shaking from laughter.
What about the scariest?
It was a while back now, but John started screaming that his head hurt. The kid never complains and he was screaming. Then Will said John had hit his head earlier. I was terrified. After three hours in the ER and a CAT scan, we figured out it was a weird version of the flu.
Do you have any fun summer plans with the kids?
I made a reading list for them of my favorite books! I love to read, so I'm pretty excited about talking to them about the books. We're going out to Colorado for a bit too.
What was the last thing you laughed out loud about?
It's post-bedtime now, so it was the kids' selections for the story: Godzilla, Smaug, and Santa Claus. Their picks are always so very representative of them. It makes me laugh every night.
If you could vacation anywhere in the world this summer, where would you go?
The beach. I love the sound of the waves.
What's your favorite NWA restaurant?
Shogun. I have addiction to wasabi.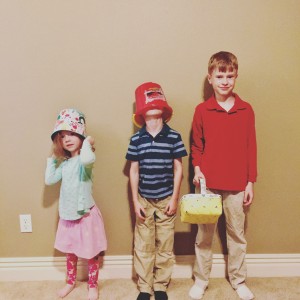 Which meal/food do you cook over and over for your family?
I'm not the cook of the family, so I get to do cookies. The kids help, too.
What does the cook in the family like to whip up on a regular basis?
Baked salmon and asparagus with a salad occurs often at our house. My husband has done a great job raising the kids to like vegetables. I have to fake my "love" for them.
How did you meet your husband?
We worked together right before I started college.
Was it love at first sight?
No.  We spent the first year we knew each other trying to out-annoy each other.
What has surprised you most about motherhood?
How much love you can have for people you don't know yet.
What do you most want people to remember about you?
That I helped NWA become a better place.
One word to sum me up:
Tenacious.
Our many thanks to First National Bank of NWA for sponsoring this feature, which celebrates all the unique moms here in Northwest Arkansas! CLICK HERE to visit the FNBNWA website or follow them here on Facebook. FNBNWA is a full-service bank and has multiple branches, including: