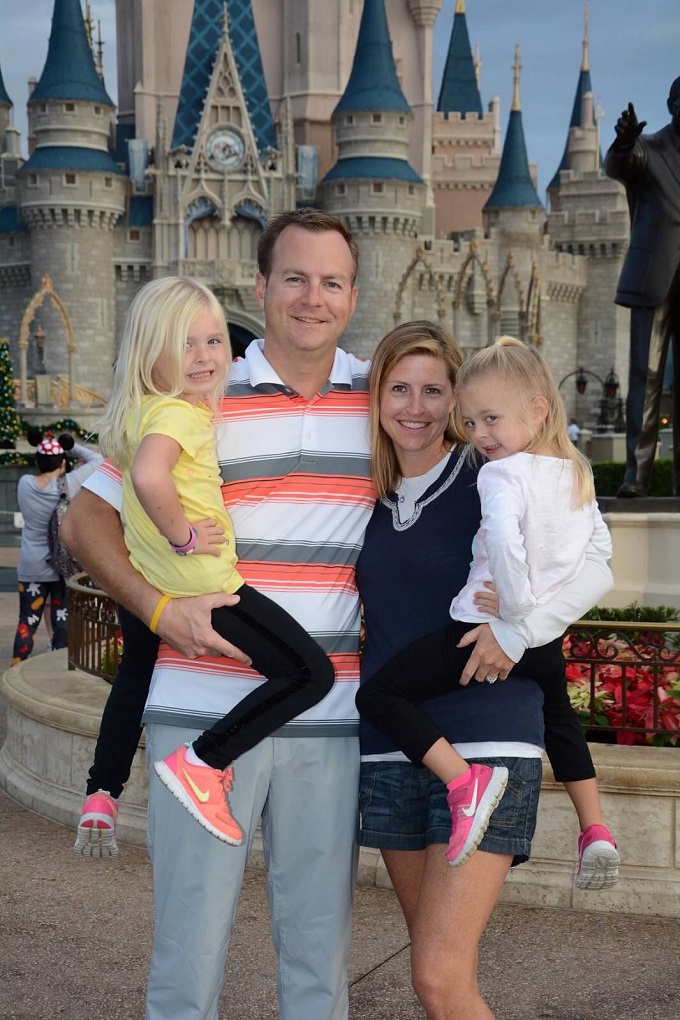 Name: Katie Dunn
Kid's names and ages:
I have 2 daughters.  Avery is 5 and Sydney is 4.
When someone says to count your blessings, what are some things that come to mind?
My husband, our girls and my friends. I had 2 rough pregnancies and I am so blessed to be a mom. We've only lived here for 2 years and the friends I have are like family. I'm so thankful.
Tell us about a day in your life:  
I get up at 6 and have my quiet time/Bible study until I get the girls up at 6:45/7. We get ready for school, eat breakfast and head out the door around 7:30. I drop Avery off at kindergarten and if it's a Tu/Th I drop Sydney at preschool.
If it's not a school day for Sydney we usually go to the gym and then we have a fun activity with friends from Moms Club. I volunteer in Avery's class every Tuesday morning while Sydney is in school. After school we either have tennis, activities with friends or time to relax at home. Then we do dinner as a family and the girls are in bed by 7.
What has been one of the most surprising things about motherhood?
I'm surprised how every day is an adventure. I love every minute of it. You never know what will happen with kids. Even tough moments can turn into amazing positive memories. Meltdowns can end in extra snuggles etc.  Before I had kids I never realized how much I would truly love being a mom.
What are your favorite hobbies?
I love to play tennis, read and travel.
What was the last thing you really laughed out loud about?
The crazy things my girls say. Sydney thinks she knows Spanish from watching Dora and doesn't always get the pronunciations right. It's so cute.
If you could vacation anywhere in the world this summer where would it be?
Selfishly I'd love to go see the French Open tennis tournament in Paris. One of my goals is to see all 4 grand slams and the French and Australian Open are the 2 I have yet to see.  Otherwise I'd love to take a family vacation to Bora Bora or somewhere like that.
Which meal do you find yourself making over and over?
Over the past 6 months my friends and I have made 10-20 Pampered Chef freezer meals in an afternoon. It's been such a fun way to have some quick go-to dinners  and spend time with friends. I use those meals on a busy day.
What's something you've always wanted to learn?
I'd love to learn how to use essential oils to help illness/allergies/migraines.
How do you relax at the end of the day?
I try to turn off electronics and be present. I can get easily distracted by my phone or iPad.
What's one thing you'd want people to remember about you?  
My love for my faith, my family and friends.
One word to sum me up:
Organized