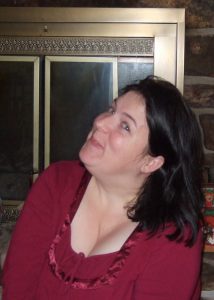 Name: Katherine Alva Morton
Children's names and ages: Sarah Alexandria, 7, and Emily Susannah, 4
What brought you to NWA? I first moved to Fayetteville with my soon to be husband in 2001, while he finished his degree at the UofA. After graduation we moved back to Fort Smith while he continued to look for a job and was a stay-at-home dad. Six months later he was offered a job with Wal-Mart and back to NWA we came. We love it here.
What are your favorite hobbies? I enjoy reading and scrap-booking. But my favorite and most of my free time is spent gaming. I play World of Warcraft and have for almost 6 years. I love the escape from everyday it gives me. Though gaming is a male dominated past time, there are a lot of women and moms who play. FOR THE HORDE!
What's your work background? I worked in retail during and after college. I loved it. I loved the fast pace of the holiday season. I worked for Old Navy, Hastings, Dillards, and Best Buy. I learned a lot from retail. Mainly how to treat people. Kindness goes a lot further than kicking and screaming.
What's a favorite memory of each child so far? My favorite memory of Sarah was her fear of grass touching her feet.  When she was little, she would crawl up your legs and cling to your body if she thought you were going to make her walk in the grass. My favorite memory of Emily is her joke telling. She loves knock knock jokes. They never make sense and sometimes can be a little shocking but she always makes me laugh.
What's something that has surprised you about motherhood? LOL My husband wants me to say how surprised I was that he is such an awesome dad. I am not surprised by that at all. What I am surprised by is how much harder motherhood is than I originally thought. From trying to convince my daughter that it is a lot better to poop in the potty than her pants; to staying up all night with a sick kid. No one could ever prep you for this job.
Tell us where you like to hang out with your family in NWA: We love the Bentonville library! We go about every other week. The girls love all the cool programs they have and we leave with a stack of books every time.
What is your favorite part of the Christmas holiday? I love spending time with my family. I wish I could see my younger brother more often. I also love the gift giving. I can't stand to wait until Christmas to give everyone their presents. I love seeing their smiles! I am the worst about letting the kids have early Christmas.
What are some traditions you've started with the kids? I have the girls every year work on saving all their money. We have a great big bank and they love to see it fill up. When Christmas time comes around, I take them to the bank and then shopping. They use the money they have saved to buy presents for their teachers, dad, friends, and whoever else they want to. They love it and look forward to it every year.
Tell us something funny about you: My life is a sitcom. One of the funniest parts of my life is: I married a man who hates sports! I am from a family that is all about football! My older brother is a sports writer and my father is a CFO for a NFL team. Only I would marry a man who does not want to go see a game!
How would you describe yourself to a new friend? I am a great listener! And an even better talker. My phone is always on and I am always at the other end ready. Whether it's just to shoot the breeze or you need to vent about the things that have gone wrong. Just give me a call anytime.
What's something you'd like to do but haven't had time lately? SLEEP! I never seem to catch up. I finally got my kids old enough to where they sleep through the night, then we go and get a dog. She is two and still does not sleep through the night. No one told me having a puppy would be like having a baby again.
One word to sum me up: UNIQUE