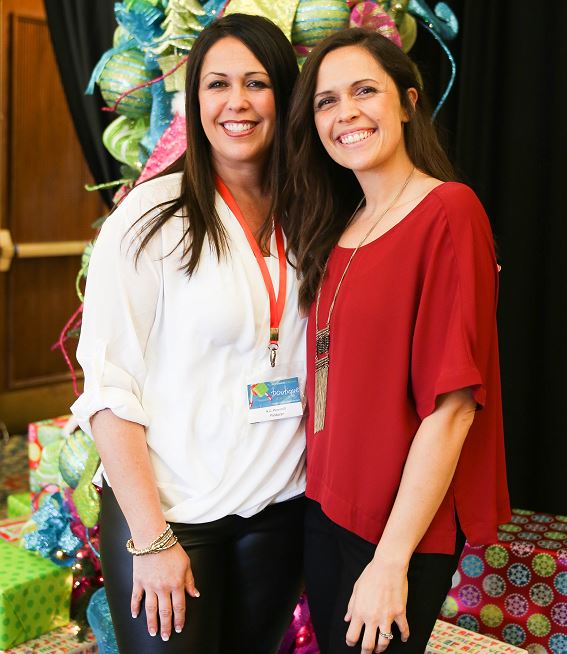 It's no secret that we LOVE the NWA Boutique Show. We've been a media sponsor for years at the show and always have a booth there with a fun giveaway.
There are over 150 unique boutiques represented and it's just a beautiful event. The merchants pull out all the stops to decorate their booths and to offer awesome, quality items.
We also love two of the main mamas behind the show, K.C. Pummill and Julie Smith (pictured above, L to R). These two women are kind, considerate, organized and FUN, even when things are stressful leading up to the event weekend. K.C. is the mom of three children — two daughters and a son. Julie has four daughters 🙂
We asked them a few questions about how the show got started — and what it takes to pull off such a massive event. Here, we pull back the curtain so you can see a little of the magic behind the Boutique Show!
A Q&A with (sisters) K.C. and Julie: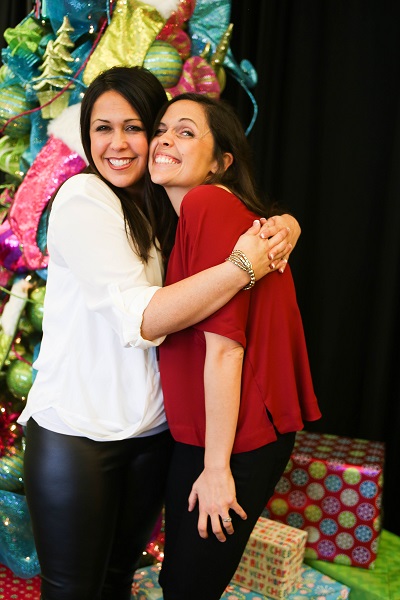 Q: We were surprised to find out a few years ago that you two are sisters! Are lots of people surprised by that fact?
A: We get it both ways! Some people get us confused for one another because we look alike, but some people have known us for years and didn't even realize!
It's always funny when a long-time merchant or business partner has that moment of realization.
Q: Did you two start out working together to bring the show to NWA?
A: Julie: K.C. started the show in 2006 with a small group of like-minded merchants (she was actually a merchant for the first several years of the show, while also heading it up!)
The show and its needs grew over the years..but it wasn't until our mom "prayed me back from Texas" that I joined K.C. as the social media coordinator.
Q: What's it like to work with your sister?
A: Julie: Ha! K.C. says she pays me to hang out with her! We love working together! Sometimes we get just about nothing done because we have so many other things to catch up on, but it is an awesome opportunity. We say our train of thought is more like a Ferris wheel… it takes a long time to get back around to business, but it's pretty fun!
Q: Do you have lots of help?
A: K.C.: Oh yes! We have been fortunate to have a solid group of other mamas that enjoy coordinating the various aspects of the show. We've got some amazing ladies: Cathleen Hood, Kathy Wetsell, Vanessa Miller, Melanie Reeh, and Tiffany Haas. Plus our adorable, hard-working interns: Jordan Ragan, Hannah Gibson, and Emily Weech. It's really like a close knit little family! We love getting to have an excuse to be around each other!
Q: How long has the show been running?
A: K.C.: Since 2006!
Q: Why do you think so many people LOVE this show?
A: KC: We work really hard to cultivate a collection of incredible, quality merchants that will bring unique items to Northwest Arkansas. There's a fun vibe, lots of energy, and it's a great kick off to the holiday season! We've got festive music, decor, and food….there's just a lot of energy in the place.
People are like, "Are you pumping oxygen in this place?! It's like Vegas in here!"  
We have hundreds of applications and we sort through them meticulously during merchant jury to select exactly the right mix for our audience. We stay really focused on our target audience.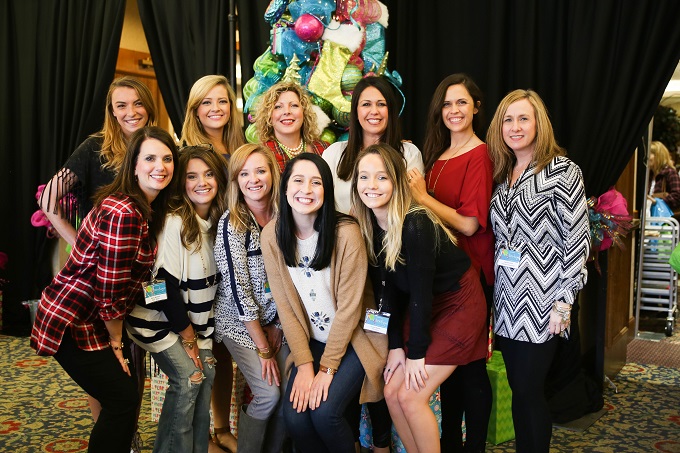 Q: And we couldn't help but notice you've helped lots of charities and merchants along the way, right?
A: Yes, we've been able to give tens of thousands of dollars away to local charities! We have a heart for small business and for our community. We support the projects of the Junior League of NWA , Fayetteville Junior Civic League, Salvation Army of Northwest Arkansas, The Women's Auxiliary of NWA, Northwest Arkansas Arts Foundation, local schools and churches, CASA… and dozens more over the years!!!
We built this show essentially during a recession to help small business owners stay afloat when many couldn't afford to have brick and mortars (physical stores).
For many merchants, this is their main source of revenue for the year!
Q: Tell us about the process of deciding which businesses get to be in the boutique show. How do they make the cut?
A: Returning merchants have first right of refusal each year. Then we look for merchants that bring something unique to the show or round out the mix. We look carefully at what they're planning to bring –  limiting overlap is important to us, so shoppers get the most variety possible and merchants have less competition!
Q: If someone is on the fence about going to the show, what would you tell them?
A: K.C.:  You have more boutiques under one roof than both the NWA malls combined! Seriously – you could knock out your holiday shopping in one day!
Get a taste of 150 boutiques that would take you weeks to explore if you were going around town. So save gas money, come to the show, and finish up your Christmas list!
CLICK HERE to visit the NWA Boutique Show Facebook page and stay up to date on contests, details and fun posts leading up to the show! Just one week to go!