By Shannon Magsam, Ladybug's mama
This week was all about pillows at the Magsam household. I got a new Pier 1 pillow from the spring collection and Ladybug got a new "Pillow Pet" for her birthday. I really didn't want to add one more stuffed toy to her menagerie, but her heart was set on getting on of those. A good reason to stick to videos and keep those impressionable little ears away from TV ads.
"It's machine washable!" she tried to sell me with the enthusiasm of a television hawker.
So I caved and got her this unicorn: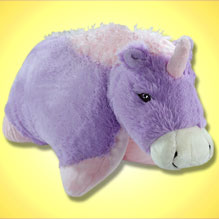 I got myself a pillow, too.
I have a great affection for birds these days. They're a big part of the decor in in my newly-decorated bedroom and now I've added a splash of color in my living room. It's a vintage embroidered pretty: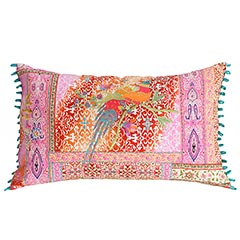 Much of the extended family is converging on Northwest Arkansas tomorrow to celebrate Ladybug's eighth birthday. We'll skate, eat cake and then — as has become the tradition — go eat at the Catfish Hole.
We'll have extra pillows for all!