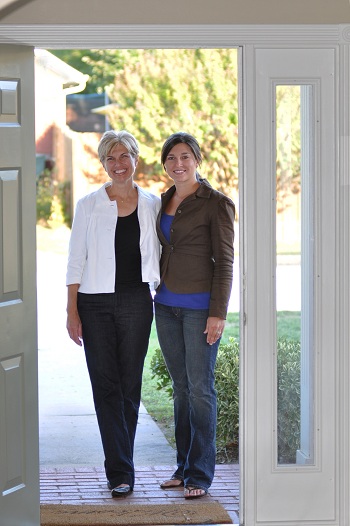 Don't cluttered and unorganized rooms stress you out? Well, they do us! That's why we were so glad to hear about a mother-daughter team's new business, Simple Spaces. They specialize in professional organizing and home staging (which is really great if you're trying to sell your house and need someone to come in and make it more "buyable").
They also offer estate and relocation services which is helpful if you know someone who is downsizing to a much smaller house, for example. Simple Spaces recently started advertising on nwaMotherlode and we wanted to introduce the owners — mom Laurie Malloy and daughter Jenna — to all of you. Say hello!
If you do need their services, but don't know if they could even make sense of your mess, remember this: they are very discreet and won't blab about the shape of your house, so no worries.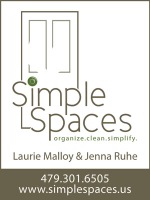 We asked Laurie and Jenna a few more questions to help you all get better acquainted.
What is your main goal at Simple Spaces? To help our clients achieve balance, customize their space and restore order.
Who is your ideal client? Our ideal client is the one who needs us most! We are looking for people who are ready to make positive changes in their lives and need help getting started or moving on.
Why do you think it's so important for people to get their homes/offices organized? Organization saves time and money, keeps people in control of their space and eliminates stress. An organized life is simply a more productive way to live and leaves time for more important things.
Do you just love the sight of a cluttered room that you've been asked to purge? Oh, the possibilities! Absolutely, we are always up for a challenge and thrive on the satisfaction we get from a job well done. There's no job too big or overwhelming that we won't tackle. We have transformed many rooms and love to bring out the true potential in any space.
And you're a mother-daughter team, right? That's so neat! Yes, we are 25 and 50 and are extremely excited about pursuing what we love together. We share many of the same interests and passions but we feel that we each bring unique strengths and talents to the business.
What led you to open this particular type of business? We share a passion for simplicity. We have been organizing for friends and small businesses for years and see what a huge impact it can make. Jenna helped manage estates for a wealthy family in South Florida and Laurie is a Personal Life Coach, trained through ILCT. We have also both moved several times and know that these transitions are not easy. Simple Spaces provides a way for us to do what we love while helping people at the same time!
Tell us about your family lives:
Jenna: I have been married to Brandon for 4 years. We met one summer in college while working at a dude ranch in Colorado. We have spent the past 3 years in Florida, but are really excited to be close to family and enjoying all that NWA has to offer. We plan to start a family someday soon but for now are enjoying remodeling our home and playing with our Boxer, Moose.
Laurie: I have been married to my husband Carl for 30 years. I have two terrific daughters, Chere' and Jenna and a fantastic son-in-law, Brandon. My biggest support comes from my husband, Carl and my mother Mary Leonard.
Laurie, you lived in NWA 25 years ago, right? How has the area changed? Yes, we lived in Fayetteville twenty-five years ago and it has changed tremendously. We chose to return because Northwest Arkansas still has the small town feel with the offerings of a much larger city. With the Walton Arts Center, The U of A and NWACC, the flair of Dickson and the charm of downtown it has the best of both worlds. But…the best part about NWA is still the same – the people!
When did you move back?  What prompted you to return? My husband, Carl, and I moved back in June of this year. His career with the FBI began here in 1985. Since then, we have had wonderful opportunities to live in New York, California and Texas. He retired after 25 years and we wanted to be close to our two daughters & son-in-law.
Do either of you have time for personal hobbies right now? We spend a lot of time devoted to the business but believe that balance is extremely important. I played tennis in college (Jenna) and my mom (Laurie) plays also, we are hoping to join a local league soon. We also both love the outdoors, cooking, entertaining and spending time with friends and family.
To read more about Simple Spaces or to book an appointment, click here to visit their website.