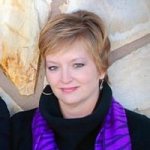 Name: Angie Albright
Son's name and age: Blaise, 15
A tricky age! For those of us not there yet, what was the most surprising thing about mothering a teenager? The drastic ups and downs. The ups are really high. When my son is feeling talkative, we have great conversations about everything in the world. It's just the two of us, so it's easy for me to focus on what's on his mind. The "up" can quickly become a "down" and suddenly we're having an intense argument about something seemingly unimportant. We all groan about raising teenagers, but I didn't expect the laughter and really great conversations we have.
Any advice for those moms whose kids aren't far behind that age? Laugh as much as possible! Using gentle humor and having a THICK skin will get us through the teenage years. When my son and I are at an impasse, we can still make each other laugh or can agree to sit down to watch a favorite comedy together, and that often brings us back together again. Also, we have to learn to let go of our expectations for our children and let them be who they really are. So much of what I want for my son is what I actually also want(ed) for myself. He has to find his own way, and sometimes I have to get out of the way. But boy, that's hard to do!
Does your son still let you write about him on your blog(s)? He does! I'm careful about what I write about and would never embarrass him, but if he makes an appearance in my blog, I let him read it before I send it out to the world. He's very open minded and has never asked me to not to post something.
Where are you from and what brought you to NWA? I grew up in southwest Iowa, something I'm very proud of and talk about often. I went to Iowa State for my first two years of college. My boyfriend and I wanted to expand our world view just a little bit (all the way to Arkansas!) and wanted to move away from home to test our independence. We had heard nice things about Arkansas and came for one visit in March, 1987 and just fell in love with Fayetteville. It felt like home immediately to both of us. We got married in mid-August that year and transferred to the U of A, which was a great decision. I loved the English Department and my years as a Razorback.
Tell us about your job: I am a Project Manager for a web and marketing team at The Belford Group, a marketing agency that does all kinds of really cool things. All the skills I've developed over the years as an English teacher and then nonprofit director come into play almost every day. I get to build relationships with clients and work with them to build strategies to promote their business or service, but I also get to work with really creative people and watch them make art and magic happen every day. I'm a serious tech geek, so mostly I get to play at being one of those all day!
If you went back to college what would you study? Everything? I spent a LOT of years in graduate school doing my master's and doctoral work in African-American and American Literature and Culture. I LOVE that stuff! But I'd also love studying world religions, international relations, social sustainability, things like that.
If you had a whole day to do anything — or nothing — what would you decide? I would sit at a sidewalk cafe, preferably in Europe somewhere, reading a book, watching people go by, and drinking coffee. When that got tiresome, I'd go take a nap, and then go back to the cafe in the afternoon and into the evening. Doing nothing is also a very attractive option.
What's something you've been meaning to do but can't seem to get around to it? Running. It's the exercise that works best for me but I hate it.
What are some traditions you enjoy with your son? We like watching sports together and going to West Mountain or Farrell's to eat pizza or cheese fries and watch whatever game is on tv. We also watch Family Guy together. If we've had a busy day or a busy week, my son will still ask if we can sit down together and just chill out before going to bed. I love that he still asks to do that sometimes.
If you were gifted with a home somewhere thrilling, where would it be? Paris! I just love Paris and all the art, language, culture, food, and wine.
What is something you hope to accomplish in the next few months? Turning my blog into article or essay queries and working on some more formal publishing.
If someone wrote a book about your life right now, what would a good title be? Still Standing
One word to sum me up … Resilient