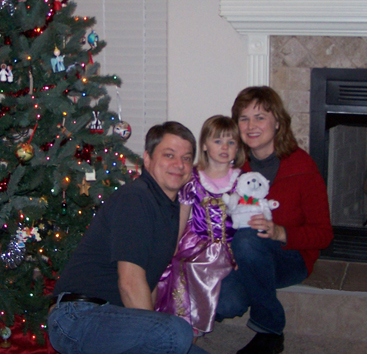 Name: Joyce Binam Davis
Daughter's name and age: Paige, 3 years
Where are you from and how long have you lived in NWA? Harrison, AR.  I moved to Fayetteville to attend the University of Arkansas. I'm not saying how many years ago that was!
How did you meet your husband? During a haircut, my stylist said she thought her cousin and I would be a good match. That night I received a Facebook message from Pete saying that his cousin thinks we should go out.  Less than eight months later we were married.
What's one movie you could watch over and over again? I can't think of any that I would want to watch over and over and over.  I'm not a "repeat" person.  I'm always craving a new experience or in this case, a new movie. A couple favorite movies are The Notebook and Jerry Maguire.
Tell us about some traditions you've started with your daughter: I haven't intentionally tried to start any traditions, but I guess some are forming.  I always make her a chocolate cake on her birthday, because to me, a chocolate cake says love.  We have always gone to see the Lights of the Ozarks and had her photo made with Santa.  We always attend the New Heights Christmas Eve service, then go around "paying it forward" with little treats for people that work on Christmas Eve.
Where does your family love to play in NWA? Outside! We love the area parks. In bad weather, we make the kid friendly circuit of libraries, Boingo Bounce, Gymnastic Joes, and just recently we added Starlight Skatium to the mix.
Do you have any special hobbies? I LOVE international travel, the more culture shock the better.  I also love playing games and learning new things.
What's something your friends might not know about you? I'm actually less competitive than everyone thinks because I don't like anyone to lose.  I strive for win-wins.
If you could vacation anywhere in the world this summer where would it be? I would go on a safari in Kenya or South Africa.
Who would you want to play you in a movie about your life? Sandra Bullock
What's something you have always wanted to learn? A foreign language.  Alas, I'm terrible at language. I just can't hear the difference in the sounds.
What are three things you always have with you? Water bottle, iPhone, pen
How do you wind down at the end of the day? Lounging in bed with my husband surfing on the iPad or watching something.
One word to sum me up … Thankful