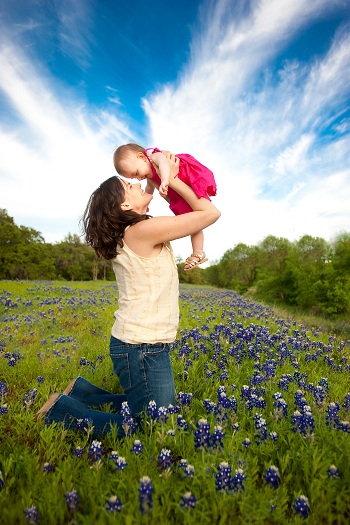 Name: Amie Throndson
Daughter's name and age: Raquel, 13 months
First off, this photo is stunning. Who took it and where was it taken? A family friend took it. We were in Austin and the photo shows the infamous Texas bluebonnets. Every spring these flowers bloom and parents pull the family car off the road and snap photos of their kiddos.
Where are you from? Ohio/Austin, TX. We've lived in NWA almost 2 months.
Where did you meet your husband? We met via mutual friends at an Irish bar celebrating St. Patrick's Day.
Was it love at first sight? I don't know if it was love at first sight, but there was intense chemistry.
If you could live anywhere in the world, where would it be? It's a tie between Paris and the Andalucia region of Spain.
If you went back to college what would you study? Corporate Social Responsibility
What's your work background? High-Tech Marketing & Social Media
If you had a whole day to yourself what would you do? I would explore the Buffalo River.
What's something you've been meaning to do but can't seem to get around to it? Learn Spanish!!
What are some of your favorite things to do with Raquel?I love reading to her and doing anything artsy. At her age, art is mostly coloring and hand paints.
What traditions do you hope to pass on to your children? We're really looking to start our own traditions with our family. We hosted a Halloween Party last year for Raquel and five of her six-month old friends. I know that we'd like to continue that tradition as she gets older.
What's a make-up essential you couldn't live without? Blush
What would you do with an unexpected infusion of cash? Depending on the amount of this infusion, I would open an eco-resort in an amazing place.
What was the best parenting advice you received? Just do the best you can every day….
The worst? I'm sure I'll hear it, but my daughter is still so young that my inexperience is showing with this question.
If someone wrote a book about your life right now, what would a good title be? One Day at A Time
One word to sum me up … focused