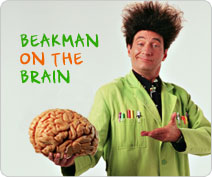 Congratulations to Donna Hardcastle, winner of FOUR tickets to see the great kids show Beakman on the Brain tomorrow night — February 24th at 7 p.m. — at Walton Arts Center!
Tickets start as low as $9. Click here for info on getting tickets!
If you recall, this giveaway had a special twist. That means Donna — a local architect and mom of two — will also get a $75 shopping spree for educational toys at School Squared in Bentonville and so will the school teacher of her choice!
Congratulations to Mrs. Susan O'Meara from Root Elementary in Fayetteville! Donna nominated Mrs. O'Meara, so she'll also win a shopping spree!
In her comment on Motherlode, Donna said, "There are so many good teachers that both of my girls have had at Root Elementary, but we would like to nominate Mrs. O'Meara. She and the fourth graders run a Charlie Brown book sale where all the proceeds go to the Animal Shelter!"
Donna also said Mrs. O'Meara lets the kids use marshmallows, twizzlers and jelly beans for science experiments and they always get to eat a few, which they love. "She also knows when the kids need a short break and will have the kids walk around the track to refresh them," she added.
Donna said Mrs. O'Meara and her fourth grade classes have done the Charlie Brown book sale for a long time. It's not only great for the kids running the sale, but for the kids and families who benefit from being able to get books cheaply, she said. And the proceeds go to the Animal Shelter. Last year they raised about $750. "This is something she initiated and does above and beyond her regular teacher duties! She just has a big heart and is super sweet," Donna added.
Rhonda Moore, principal at Root Elementary, was also very complimentary of Mrs. O'Meara.

After hearing that the Root Elementary teacher had been nominated on Motherlode, she wrote, "Susan O'Meara is indeed a much-admired teacher at Root Elementary and is so deserving of compliments and praise. She is incredibly dedicated to her students and has a real gift for making every single student feel valued. She does the same for me — she always tells me how much she appreciates me, how much she loves me being her principal, etc.  Because she is so grateful and so gracious, it makes me want to work harder and be a better leader. She inspires all of us!"
Mrs. Moore also had kind words for hard-working school volunteer Donna Hardcastle. She noted, "I'm not sure a more positive person has ever lived."
ABOUT THE SHOW: Beakman a.k.a. Paul Zaloom's children's show, called "Beakman's World" won an Emmy and aired on CBS from 1993 to 1998 and was seen in 90 countries. This new stage show tells kids and parents everything you wanted to know about the brain. It includes lots of audience participation and humor, and Beakman uses a series of large-scale, fun, visual demonstrations to illustrate how the brain works.
Ever wondered how we think, feel, smell and see? What makes us cry, laugh, smile and sneeze? You'll even learn how our brains can get fooled — or the effect of music and art on the brain. Beakman investigates the neuroscience of the brain in a fun, wacky way that kids and parents both love.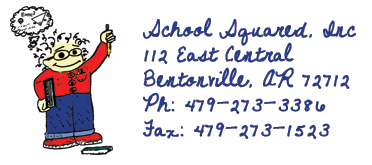 ABOUT THE SHOPPING SPREE: Since the Beakman show features everything you ever wanted to know about the brain, we wanted to pair these fun WAC tickets with a chance to win some new educational toys and games from School Squared, located on the Bentonville Square. Enjoy your shopping sprees at School Squared, Donna and Mrs. O'Meara!