By Devin Fell, Fayetteville Public Library Youth Librarian
At the Fayetteville Public Library, we are always looking for new picture books that will appeal to you and your kiddo.
We know the classics such as, "Guess How Much I Love You" by Sam McBratney and "Goodnight Moon" by Margaret Wise Brown are always a hit but if you are looking for something to spice up your quality read aloud time, these creative novels will have your child giggling and begging to race back to the library to pick out more new books!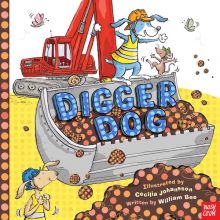 Digger Dog by William Bee
Digger Dog loves to dig up bones. What dog doesn't? His nose has led him to his latest find but it is proving to be his most difficult task yet. He quickly abandons his shovel in favor of bigger and BIGGER construction equipment because the job must get done!
With the use of fold out pages and bright, patterned pictures, this is a fun but simple book that will have a child yearning to find out what's on the next page.
The Geese March in Step by Jean-Francois Dumont.
"One, two; One, two" cries Igor, the leader of the geese flock, as they take their daily march down to the pond near the farm. Nothing makes Igor happier than the sound of his flock in perfect rhythm until he hears, "One, two; One, two, TAP; One, two; One, two, TAP".
Furious to find someone out of sync, Igor determines the cause is young little Zita, a new goose to the group. Banished for her lack of focus, Zita slumps away in shame, thinking, "I'm really no good as a Goose", as the tears begin to fall with a "splash, splash, splash, SNIFF". She passes many farm animals on her lonely walk to the pond who contribute noises of their own to a growing rhythm that will have children moving to the beat.
The watercolor artwork is reminiscent of your typical rural paintings, bringing to life the calm scene that is disrupted by quirky animals. This is a perfect read aloud, especially for a group audience, so that children can join along in creating the beat that leads Zita to a happy ending.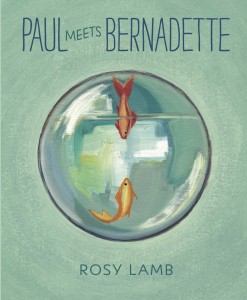 Paul Meets Bernadette by Rosy Lamb
Paul is a goldfish with nothing to do but swim. He swims up, down, right, left, around and around. He's content with the world he knows, until Bernadette drops into his bowl to open up his eyes to the things around him. Their imaginations run wild as they ponder the objects around their little home and what they could be.
When Paul spots a teapot, Bernadette informs him it is an elephant and that, "She is not too dangerous but you must not disturb her when she is feeding her babies" (a.k.a. tea cups). Children will giggle with the hilarious suggestions and love correcting these little goldfish.
Rosy Lamb is the author as well as the illustrator and her use of oil paintings is engaging and brilliantly colorful, so that the objects seem to come right off the page. This whimsical tale is fun for ages 3-6 and teaches children to keep their eyes open to the opportunities around them.
Camp Rex by Molly Idle
Are you looking for a way to encourage children to get out of the house? With summertime upon us, this new picture book tells the tale of hiking, camping, and canoeing with some very friendly looking dinosaurs and their human companion. Wilderness safety tips are strewn throughout the text while the pictures tell the tale of consequences for those who do not listen to the rules.
This subtle humor will be appreciated by an older preschool audience, particularly when the dinosaurs are chased by the much smaller, but equally intimidating, hoard of bees. The dangers are balanced with fun, as dinosaurs munch some delicious looking s'mores, something children (and adults) can't resist.
The worn out but happy campers make the trek back home for some additional adventures, emphasizing that "Experienced campers are as much at home in the great outdoors as they are in their own backyard".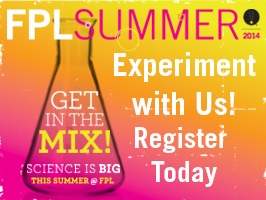 The Fayetteville Public Library has got it going ON this summer! Workshops, camps and activities galore for kids, teens and adults! Click here for the whole list of activities.