By April Wallace, nwaMotherlode contributing writer
The end of this season made me wonder whether I'd done my best to give my children as great a summer as I could afford.
This summer was so different from last year's, now that I'm a mother of two. Last time I had this fun little routine for my then 1-year-old, and it made me feel so productive. As if I was doing my best to keep him happy, healthy, well-stimulated and entertained all at once.
We would go to music class on Tuesdays, the Botanical Garden's Little Sprouts program on Wednesdays and the Fayetteville Public Library's baby bookworms (story hour and playtime) on Thursdays. Having a couple other weekdays open meant we were able to make plenty of trips to the Amazeum, Crystal Bridges, local parks and other play dates with friends.
I was newly pregnant again and combating morning sickness, but my toddler was finally beginning to take regular, solid naps in the middle of the day. We were a work in progress, but we really hit a groove of something that worked for us.
This year, though, we've been far less structured while adjusting to our new normal. And because of that, it's hard not to think of our summer as less successful than the last one.
We have struggled to make it to the library, our number one favorite of all places.
Last summer we went there weekly for story hour, returned with a dozen books and read each of them everyday, faithfully recording them in reading logs for the summer reading program and collecting our many free books.
Now we make it there about once a month. It's just so hard to one-handedly wrangle a baby and toddler while we're there.
But that doesn't mean we read any less, really. I always read to my boys while breastfeeding my infant first thing in the morning, and make sure to read a few books at each nap time and bedtime.
We wear out the new library titles, and then we dig into our personal library where my toddler finds new favorites we have to read over and over again. Plus, family and friends bring us new books when they come to visit our babies.
Most weeks we still make it to our music class, but there are times when we travel or have more pressing plans.
Twice we were so exhausted by just trying to take care of our crew that we fell behind on household duties and had to skip music just to go grocery shopping so we'd all be able to eat lunch that day (and the rest of the week's meals for that matter).
It wasn't until about halfway through the summer that we were able to make it to the Botanical Garden again on a regular basis.
And even now there are some of those mornings where I think we've successfully gotten ready when suddenly the baby cries to be fed again and the toddler poops right as we need to be loading up, and it's just too much. We miss another week.
Going to the museums, which are a half-hour drive away, are more of an excursion now.
Our toddler is fast and our little baby is always hungry, and so I always find myself pulled in two directions, quite literally. We've had less of those outings, because I need backup for that kind of thing now.
We've had some fun play dates here and there, but only with friends who agree to not expect too much. No grand destinations, no prompt meetup times, nothing too fancy, and please, please, please no big deal if one of our kids has a fit whether we're in public or not.
Since it's such an orchestration to get us all ready and out of the house, parks have taken a backseat to our wonderful backyard. Henry is quite taken with our own little patch of grass, dirt and shade now.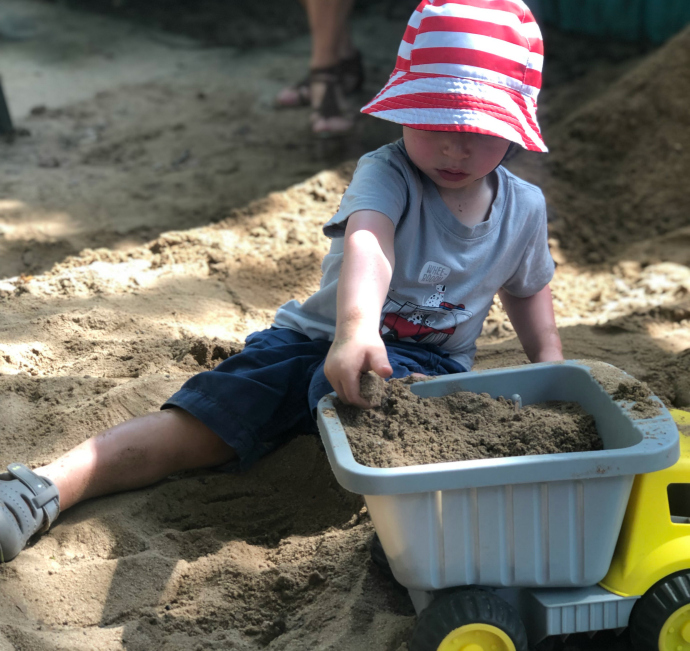 Looking back and comparing the two summers, I felt a little sad that I wasn't able to put my finger on what I'd done for my boys. In terms of taking them places and giving them regular exposure to other people and experiences, sure, it was overall less.
But as I think back to my earliest memories, when my mother was staying at home with me, I'm trying to remember: Did we have a specific day that we always went to the library? I don't think so. Did we go every week or every month? I honestly don't know. What I do remember is that she took me there whenever I needed something new to read. I remember loving those trips, however often or infrequent they were. I loved the independence she gave me to wander to my favorite area and make book selections on my own. Did we have ritual days that were spent with friends, or were we a part of half a dozen mommy and me groups? No, I just enjoyed the days we happened to get together with others.
Maybe my problem this summer was that we have done less glamorous things together, and those have served as the bulk of our daily togetherness time. We have made numerous supermarket runs, school drop offs and pickups, changed countless diapers, done more laundry than I could ever quantify and attempted to clean the house while the toddler quickly levels it before our eyes.
But from what I can tell, I don't think my boys were any less happy. They have been continually well fed, well-rested (even when my husband and I were not), constantly read books, sung to and listened to—the complete and total focus of our attention.
Henry, my two year old, has been up to his eyeballs in dirt as he digs in our backyard every single day, which currently is his all-time favorite activity. He has a couple chores now, bringing in a small, light item when we're unloading groceries, and he feeds our cat daily. Though we don't go to as many places, he still meets plenty of people when we're on walks in the neighborhood and on the trail every single day.
This summer is the one that Henry went from saying only a couple of words together at a time to telling us short stories, some from his day and some from imaginary play, singing his favorite songs and even making up new verses.
It's the season that he went from being spiteful and jealous of his little brother to now playing easily with him and telling us a few times a day that he loves little bubba. It's the era that he went from being terrified of the potty to now using it daily.
This summer is the one that Elliott went from being a peaceful, quiet little snuggle bug to a babbling, crawling little escape artist who's after his bubba's finest toys. We can tell he's doing his best to keep up with his big brothers, and I'm just glad he's not walking…YET.
I'm sure my boys would have more or less evolved in the same manner, even if we had stuck to more of a structured schedule this summer, but the difference is that I would not have been able to enjoy the transformation.
This summer is the one that I got to see it all unfold before my eyes, without rushing it one bit.
As I look around our home right now, it's filled with music and littered with toys and kids' paintings and two growing boys who can now play peekaboo with each other.
Our summer sure was different from last year's, and I love that.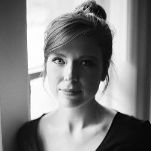 April Wallace is a stepmom to one smart, funny teenager, mama to two beautiful and curious baby boys and wife to a very kind and generous man. She spent the past decade as a news reporter, sometimes lifestyle writer, and recently left her job at the Arkansas Democrat-Gazette to be with her babies while they're still babies. When she gets a few minutes to herself, April loves to run local trails and read fiction. For more of April's posts on pregnancy, babies and toddlers, click here.