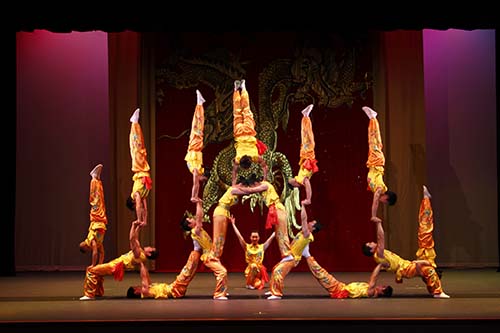 Do you have one of those kids who's always tumbling, cartwheeling or bouncing around the house? Well, this show is the perfect fit for your little (or big) mover and shaker!
We've got FOUR FREE TICKETS to see The Peking Acrobats at Walton Arts Center at 7 p.m. on Tuesday, February 25, 2020.
ABOUT THE SHOW:
For thirty-two years, The Peking Acrobats have redefined audience perceptions of Chinese acrobatics. Upholding a time-honored tradition rooted in centuries of Chinese history and folk art.
The newest generation of Peking Acrobats mixes high-tech special effects and awe-inspiring acrobatic feats with traditional Chinese music and instruments, creating an exuberant show with the festive pageantry of a Chinese Carnival.
They perform daring maneuvers and display their technical prowess with such arts as trick-cycling, precision tumbling, juggling, somersaulting and gymnastics, pushing the limits of human ability, and defying gravity with amazing displays of contortion, flexibility and control. Prepare to be astounded by their bravery and dexterity!

See a sneak peek here:
HOW TO ENTER:
If you'd love to win these 4 tickets to see The Peking Acrobats at Walton Arts Center, scroll down to the bottom of the post and past the comments posted by other local moms. Then write a quick comment telling us about your child's most jaw-dropping feat recently. Did they get a great grade on the spelling test? Learn to drive your car? Show great promise as an actor with an Oscar-winning performance/temper tantrum at the grocery store?
You can also email your answer to us at giveaways@nwaMotherlode.com.
STAY CONNECTED:
Our newsletter subscribers get access to good stuff, including exclusive giveaways (like this one), information about local events, local mom interviews, recipes and more.
The nwaMotherlode newsletter is delivered straight to your inbox so you don't miss anything awesome (like this chance to win tickets!) CLICK HERE to sign up. We won't fill your inbox with info, no worries. We only send out newsletters when there's something in it for you — and we know you'll be interested in hearing about it.
We'll draw the winner at random on Friday! CLICK HERE for more information or to go ahead and get tickets to this awesome show. You can also call 479-443-5600 to purchase them now.