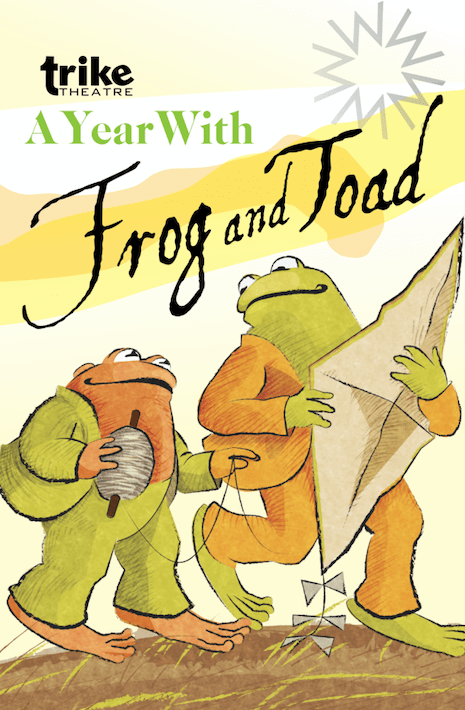 We jumped for joy when we heard that A Year with Frog and Toad was hopping on stage in Northwest Arkansas at the end of the month!
Adapted from the Caldecott Honor winning Frog and Toad books by Arnold Lobel, this Tony-nominated Broadway Musical tells the story of two friends, cheerful Frog and grumpy Toad. We loved these books so much we read them to our own children.
We've got FOUR FREE TICKETS to the first night's performance by Trike Theatre on January 25 at Walton Arts Center's Studio Theater at Nadine Baum Studios. But there are other dates if you don't want to miss getting tickets (which are only $14)!
Show times are:
January 25, 2020 @ *2:00PM & 4:00PM (*The 2pm show is a relaxed performance.)
February 1, 2020 @ 10:00AM, 2:00PM, & 4:00PM
February 8, @ 10:00AM, 2:00PM, & 4:00PM
The musical takes us through four seasons of adventures with Frog and Toad. From planting gardens, to swimming, raking leaves, going sledding and learning life lessons along the way, these two best friends are happy the whole year round. They meet whimsical creatures, celebrate their own uniqueness and deepen their friendship. It's a heartwarming retelling of Lobel's timeless stories of unlikely friendship.
Best for ages 5 and up.
HOW TO ENTER:
If you'd love to win these 4 tickets to see A Year with Frog and Toad, scroll down to the bottom of the post and past the comments posted by other local moms. Then write a quick comment telling us the title of your child's favorite book right now (or the one they always wanted you to read to them when they were young).
You can also email your answer to us at giveaways@nwaMotherlode.com.
STAY CONNECTED:
Our newsletter subscribers get access to good stuff, including exclusive giveaways (like this one), information about local events, local mom interviews, recipes and more.
The nwaMotherlode newsletter is delivered straight to your inbox so you don't miss anything awesome (like this chance to win tickets!) CLICK HERE to sign up. We won't fill your inbox with info, no worries. We only send out newsletters when there's something in it for you — and we know you'll be interested in hearing about it.
We'll draw the winner at random on Friday! CLICK HERE for more information or to go ahead and get tickets to this heartwarming show. You can also call 479-443-5600 to purchase tickets.