By Gwen Rockwood, newspaper columnist and mama of 3
We're back from a trip to New York and we have the blisters to prove it. During our last night there, I took off my tennis shoes after three days of walking more than eight miles per day and saw a toe blister so big I decided to name it. Fred, the blister on my fourth toe, is the only souvenir I brought back from the big city.
We skipped shopping in favor of seeing, and boy did we see some things. It was the first trip to the city for two of our three kids, and we were anxious to see their reactions to a place they'd only seen in movies.
After an introductory slice of New York pizza, we walked to Times Square and melded into the throngs of other tourists. It's not accurate to say we "walked" through Times Square. The crush of the crowd makes it impossible to do anything other than a slow shuffle.
Describing Times Square accurately is tough to do. Mixed in with all those people are things you won't see anywhere else, like a person in an Elmo costume that's an odd mix of sweet and creepy. There are people dressed as Transformers and others holding fake torches as they pose as living statues of liberty. This bizarre stretch of New York is bordered by giant digital billboards and littered with trash left behind by too many people.
Much like the Las Vegas strip, Times Square encapsulates both weird and wonderful, gross and grand – a place where you'll see the excesses of American society on full display. Speaking of full display, there was a moment during our slow trek through Times Square that will forever be burned in my memory. As I gripped the hand of our 12-year-old daughter, I glanced behind me to make sure Tom and our teenage boys were close behind.
Confident we were still all together, I trudged ahead but then caught a glimpse of something – unusual – in the corner of my eye. I glanced in that direction and immediately thought, "Wow, that flag shirt is way too tight, and she should really consider a bra." But on second look, I realized that what I was seeing was not a tight shirt but was skin with wide stripes of red, white and blue body paint. It gave whole new meaning to the phrase "clothes that looked painted on."
The patriotic nudist was not alone. There were at least three topless women in this odd cluster of swaying skin, wearing nothing but thongs, high heels and smiles for the dozens of selfies they took with tourists. I glanced over at Tom and we had a silent conversation with our eyes: "Let's just look straight ahead and not react to this situation and maybe, if we're lucky, our kids won't see the parade of red, white and boobs." We'd brought the kids to see the big city, not full-frontal nudity in the flesh.
Thankfully, the rest of the sight-seeing in New York didn't come with an R-rating. We saw three Broadway shows in beautiful old theatres, the Statue of Liberty, Ellis Island, incredible museums, and picture-perfect pasta in out-of-the-way Italian restaurants.
On our last night of vacation, we stopped on the way back to the hotel for one final slice of pizza, and we toasted the city with our soft drinks. "Here's to New York," I said as I lifted my cup. "We saw some pretty amazing things, didn't we?"
To which our 15-year-old son spoke up and said, "Like those naked people in Times Square?"
Thanks for the memories, New York.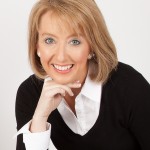 Gwen Rockwood is a syndicated freelance columnist. Email her at rockwoodfiles@cox.net. Her book is available on Amazon.