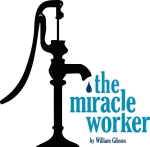 The amazing story of Helen Keller is coming to the Rogers Little Theatre for the next two weekends: April 9-11 and 15-18.
There will be a special performance of The Miracle Worker with an interpreter for the deaf on April 8 at 7 p.m. The show is directed by Rick Pierson.
The role of Helen is played by Kasey Lancaster, the daughter of Kevin Lancaster, our awesome IT expert here at nwaMotherlode. We've seen a clip of Kasey's performance and she is outstanding. (Click here to see a tv ad about the performance!)
Click here for tickets or more information.
About the show: Immortalized on stage and screen by Anne Bancroft and Patty Duke, this classic tells the story of Annie Sullivan and her student, blind and deaf Helen Keller. The Miracle Worker dramatizes the volatile relationship between the lonely teacher and her charge. Helen, trapped in her secret world, is violent, spoiled, almost sub-human and is treated by her family as such.
Only Annie realizes that there is a mind and spirit waiting to be rescued from the dark, tortured silence. Annie's success with Helen finally comes with the utterance of a singe word: "Water"!
See you at the show!