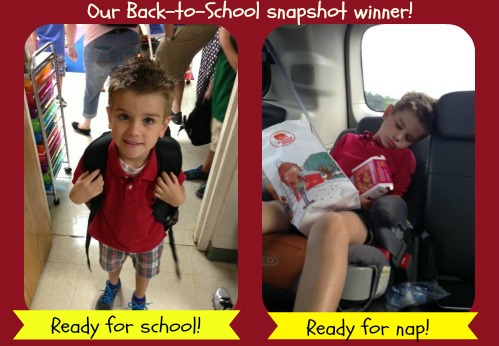 Congrats to local mom Jana whose back-to-school snapshot won her two movie passes and a Red Robin gift card! As always, the winner of this giveaway was chosen at random (using a random number generator), but we were thrilled when we saw how adorable Jana's snapshots are.
Pictured above is her son on his very first day of school as a Kindergartner at Root Elementary. The shot on the left shows how bright-eyed and bushy-tailed he was Monday morning, ready to tackle the first day. The shot on the right is the one Jana snapped in the car, shortly after handing her son an after-school Happy Meal treat. Have you ever been so tired you fell asleep while eating? (Yep, we know how you feel, buddy.)
This just proves that our little ones really do work hard during the school day. We hope this little guy and his family will have fun refueling at Red Robin and relaxing at the movies.
Congrats to Jana and her son, and thanks to ALL of you who shared your snapshots with us. Click HERE to see the slideshow of all the photos we received.