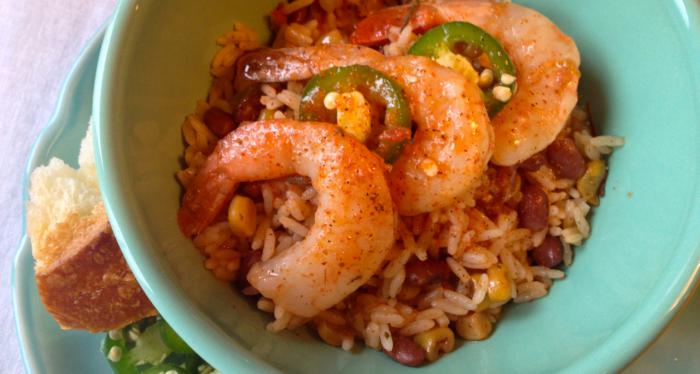 We love this recipe from Helen, the owner of MyBrother's Salsa.
We will eat a Shrimp and Spanish rice bowl any day of the week! If you're craving something a little "different", try this one soon. Thanks to our Mealtime Mama sponsor for spicing up our menu this week.
Shrimp & Spanish Rice Bowl
Shrimp Ingredients:
24 oz. frozen shrimp (peel off, tail on/ med-large)
2 sticks butter, softened
1 cup My Brother's Original Salsa
2 Tablespoons. Tony Chachere's seasoning
2 Tablespoons fresh Lime Juice
½ tsp black pepper
2-3 sprigs fresh Rosemary
Garnish:  fresh jalapeno slices
Crusty style bread or cornbread for serving
Spanish Rice ingredients:
2 cups rice
2 cups water
One 16oz. jar My Brother's Black Bean & Corn Salsa
salt to taste
To prepare shrimp:
Soften butter, blend My Brother's Original Salsa, spices and lime juice into butter.  Thaw shrimp under running water or in fridge. Pat dry with paper towels.  Preheat oven to 350.  Place shrimp in large baking pan.  Spoon butter mixture over top and add Rosemary sprigs on top.  Place in oven uncovered.  Bake approx. 30 min. or until shrimp "pinks up". Stir occasionally.
To prepare Spanish Rice:
Place ingredients into sauce pan, bring to boil, lower heat, cover.  Cook approx. 15-20 min. Remove from heat, season with salt.
To serve:
Spoon Spanish rice into bowls, top with cooked shrimp, then use pan drippings as "sauce" over the shrimp and rice.  Garnish with fresh jalapeno slices and Tony Chachere's seasoning.  Serve with hot crusty bread or cornbread.
For more great ideas for what to cook this summer, CLICK HERE to see more recipes on the My Brother's Salsa website.